'False Breakout' Alarms Wail With Every Downtick: Taking Stock
(Bloomberg) -- Stock futures have been sliding all morning, following weakness in global markets, a batch of worse-than-expected earnings reports (versus mostly positive ones on Wednesday), and a sea of red in the commodities complex, especially in metals and crude oil thanks to a bid in the dollar: Sterling touched 10-month low on weak U.K. retail sales, euro hit the lowest in three weeks, while yuan tumbled to a one-year low.
There was plenty of fodder for the bulls yesterday (see rundown below), especially on the earnings front, but the gains didn't have a massive amount of conviction behind them -- which means that how the market reacts today to some worrisome macro shifts and several troubling corporate announcements may be telling for the bears that are shouting for a "false breakout" as we hang above recent (and still?) S&P 500 resistance at 2,800.
Nervously Watching the Tape
Stocks added to Monday's gains as bulls nervously twiddle their thumbs in anticipation of a confirmed breakout in the S&P 500 above 2,800. A crushing housing starts print for the month of June (biggest drop since November 2016) weighed on the homebuilders for the entire session, but couldn't keep the market down thanks to:
1) wide swath of positive reactions to major earnings reports, most notably in the financials (MS, MTB, NTRS, SCHW), tech (TXN, ASML, ERIC), the industrials/transports complex (GWW, UAL, CSX) and the cruise liners (NCLH comments lifting the group)
2) bad news not derailing the FAANGs, as seen with Netflix results on Monday and Alphabet's $5b fine yesterday (GOOGL ended the day right at the flat line)
3) nothing spooky out of Powell's second day of testimony, where he kept a dovish tone on labor and inflation while shrugging off any recession talk over the flattening yield curve -- this followed Bernanke's comments that normal market signals, like an inversion flashing warning signs of an economic downturn, have been distorted by "regulatory changes and quantitative easing in other jurisdictions"
4) Kudlow's comments on a tax plan 2.0 (may see "a 3.0, and you may see a 4.0"), free-trade deal with Europe ahead of next week's Trump-Juncker meeting, and progress on talks with Mexico (Trump reiterated this later in the day), though what he said on the lack of headway with China was less sanguine
5) multiple technical strategists using the break above 2,800 as leverage to predict a rally eclipsing S&P's record of 2,873 and then some (more on this below)
Sectors that may outperform today:
Tech after IBM (shares +2.8%) reported a clean beat, with analysts specifically pointing to strong hardware results, accelerating cloud growth, traction in its blockchain offering, and expectations for gradually improving margins in second half of the year
Truck machinery after Volvo (+1.2% in Stockholm) beat its profit target; watch Cummins, Paccar, and Navistar
Rails after Canadian Pacific followed CSX with a beat, though the higher operating ratio may make it a wash; Union Pacific reports later this morning and that'll be the bigger catalyst for the group
Life science names like Thermo Fisher and Agilent after Danaher (+5.2%) reported solid numbers, though watch dental stocks on the company's announced spinoff of its unit; this comes on the heels of a cautious note from Goldman that weighed on Dentsply and Patterson Cos yesterday
Defensive sectors, like utilities and REITs, may reverse course if the broader markets remain under pressure; staples may play a big part, helped by Unilever's (+2% in Amsterdam) upbeat outlook and an earnings beat from tobacco giant PM (+1.2%)
Sectors that may underperform today:
Credit cards after American Express (-2.8%) kept its yearly EPS forecast despite a bump in the revenue view; keep an eye on Capital One, which reports tonight, Discover Financial, and Synchrony Financial
Machinery, especially rental equipment names, as United Rentals (-2.8%) beat on many metrics, but disappointed some analysts on the margins and pricing front; watch H&E Equipment and Herc Holdings for spillover effect, and perhaps even Caterpillar, Deere, and the rest of the space
Semis with exposure to crypto, like AMD and NVDA, after Taiwan Semi (TSM -1.1%) slashed its outlook for revenue and capital spending on slowdown in digital currency mining
Internet stocks after EBAY (-6.3%) trimmed its revenue view, though this one may be more company-specific and tech crowd may be paying more attention to IBM today anyway
Packagers, specifically the can-makers, after Crown Holdings (-3.8%) came out with a worse than feared cut to EPS guidance; separately Goldman notes that North America beverage can trends slightly deteriorated in 2Q with overall volume dipping 0.9% vs 1Q down 0.3%; watch Ball Corp., Silgan, and Ardagh Group for sympathy weakness
Advertisers after Publicis (-8.7% in Paris) reported a surprise sales whiff in a follow-up to Omnicom's earnings-fueled plunge from Tuesday
Materials stocks as the commodities complex is being brought down by the metals (copper -3%, nickel -2.4%, gold -1%, aluminum -0.7%) while Alcoa cut its Ebitda forecast last night
Every CMT Loves the Setup
As mentioned above, the month-to-date rally that has yet to stall out around the key 2,800 mark is lending itself to some sky-high predictions from the Chartered Market Technicians (CMTs) of the world.
For example, Evercore ISI's Rich Ross said the S&P 500 is in excellent position to hit 2,900 (which would be a record) within the next two months "on the back of the 5 month base breakout, bullish 'reaction to news,' absence of overhead resistance, expansion of breadth, and ongoing skepticism."
Fairlead Strategies' Katie Stockton, most recently with BTIG, says the S&P 500's recent breakout from a triangle formation yields a projection near 3,000 for this year. She views the recent pullback in smallcaps as short-lived, sees the next significant move for the dollar to be lower, and expects the 10-year yield to resume its gradual uptrend.
Bay Crest Partners' Jonathan Krinsky, formerly of MKM, said the potential scenario of a "false breakout" appears to be fading as the S&P 500 consecutively closes above the 2,800 level. He sees the round number acting as short-term support with some resistance in the e-minis at 2,830-2,840 followed by the all-time highs. Krinsky also sees potential for a mean reversion between tech, which is pausing, and industrials, which finally caught a bid after some positive earnings.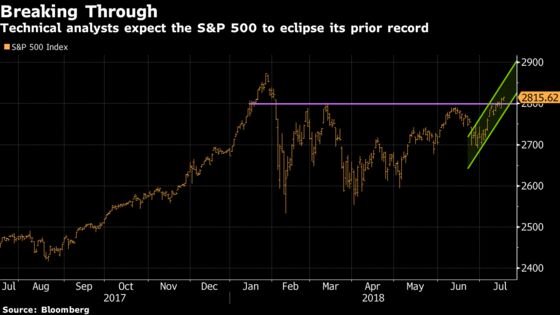 Needham slashes TSLA (-2.4% pre-market) to underperform as Model 3 cancellations have picked up, based on checks, while Model S/X sales are likely to remain lackluster..
Credit Suisse lifts SQ to an outperform with a price target $81 (just a dollar below the highest on the Street) on the company's potential to penetrate larger merchants and upside to revenue forecasts in the out-years..
Goldman adds buy-rated DISCA to its conviction list on synergies from the Scripps deal.. Citi upgrades SWCH to a buy on the underlying value of the core campus..
Morgan Stanley upgrades the payments and processing sector to an attractive view on likelihood of accelerating EPS growth, expansion to B2B payments and enhanced M&A potential, though downgrades ONDK to underweight and LC to equal-weight.. the bank is also downgrading FFIV to an underweight as survey suggests sales are likely to continue decelerating..
UBS initiates the household products sector with a cautious view, pinning CLX and KMB both with sell ratings and CL the only buy..
Tick-by-Tick Guide to Today's Actionable Events
7:00am -- PM, POOL earnings
7:30am -- ADS, DPZ, WBS earnings
8:00am -- UNP earnings
8:30am -- Philadelphia Fed, Initial Jobless Claims
8:30am -- Commerce Department hearing on potential tariffs on auto imports
8:30am -- GPC, GATX earnings
8:45am -- UNP earnings call
9:00am -- House committee hearing on China threat
9:00am -- NUE earnings, PM earnings call
9:00am -- FUL investor day
9:45am -- Bloomberg Consumer Comfort
10:00am -- Leading Index
10:00am -- DPZ earnings call
10:30am -- EIA natgas storage
11:30am -- VMW annual meeting
1:00pm -- Treasury auction: $13b 10-year TIPS
2:00pm -- NUE earnings call
4:01pm -- LLNW, PBCT earnings
4:05pm -- MSFT (roughly), COF, ETFC, SKX, ISRG, EXPO earnings
4:15pm -- SWKS, CTAS, CE (roughly) earnings
5:00pm -- SWKS, COF, ETFC earnings calls
5:00pm -- NAVB corporate progress call
5:30pm -- MSFT earnings call