Reliance Plans to Borrow $6 Billion in Consumer Push
(Bloomberg) -- Reliance Industries Ltd., India's second-largest company by market value, plans to raise about 400 billion rupees ($5.8 billion) in fresh debt this financial year as it expands its consumer businesses, according to people familiar with the matter.
The billionaire Mukesh Ambani-led company will raise funds through loans and bonds, mostly in the Indian currency, the people said asking not to be named as they are not authorized to speak to the media. Of this, the refining-to-retail conglomerate already has shareholder approval to raise as much as 200 billion rupees through non-convertible debentures.
Reliance's total debt has tripled in the past five years as it borrowed to fuel more than 3.3 trillion rupees of spending on a new telecom venture and its traditional petrochemicals business. Ambani will invest this year to roll out fiber-based broadband services and on acquisitions, including the purchase of telecom assets from brother Anil's Reliance Communications Ltd. The company has total borrowings of about 2.2 trillion rupees, more than half of which is due to be repaid by 2022, according to data compiled by Bloomberg.
Net liabilities will probably increase this year, mostly due to the Reliance Communications transaction, before falling in the financial year ending March 2021 as cash flows improve, said Somshankar Sinha, a Mumbai-based analyst at Jefferies India. "Reliance needs funds to refinance existing long-term debt or replace short-term debt with longer tenors, and to fund its announced acquisitions."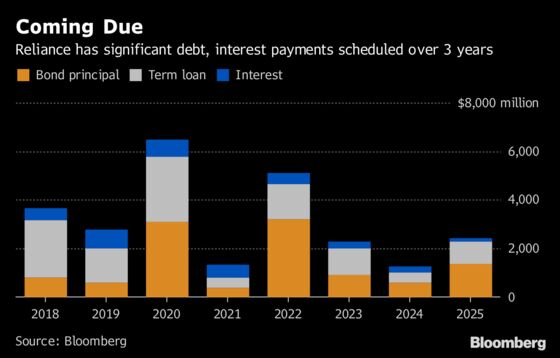 Reliance has agreed to pay about 173 billion rupees to purchase spectrum, mobile-phone towers and fiber assets from Reliance Communications and another 50 billion rupees for textile-maker Alok Industries, which it won in an auction under India's bankruptcy rules.
There are investments planned for the fiber-based broadband services, JioGigaFiber, that will launch across 1,100 cities in August under the umbrella of telecom unit Reliance Jio Infocomm Ltd., the people said. In addition, the conglomerate will spend on acquiring apparel brands and opening new retail outlets, one of the people said.