Banks Brush Off Market Uncertainty With Record Deal Fees
(Bloomberg) -- Rising uncertainty in markets didn't stop the biggest U.S. banks from hauling in record revenue from investment banking.
Wall Street's largest firms posted a surprise jump in advisory and underwriting fees that took their total to $8.54 billion. That, along with better-than-expected trading gains and the lowest level of bad loans in almost a decade, led the six biggest U.S. lenders to report second-quarter earnings that mostly surpassed estimates.
Investors rewarded the banks, with the S&P 500 Financials Index climbing 2.7 percent since the start of results Friday.
Among the big winners were Morgan Stanley and Bank of America Corp., which both handily beat expectations thanks to their investment banking and consumer businesses, respectively. Wells Fargo & Co. was the lone bank to miss analysts' earnings estimates as its total loans and deposits both dropped.
"Global macro risks hold the key for the companies from here, both for the earnings outlook and stocks," said Bloomberg Intelligence's Alison Williams. "Concerns are likely to linger in the third quarter and may weigh on shares even as banks said global trade is a risk that's not yet impacting earnings."
Lower tax rates meant the six firms -- which also included JPMorgan Chase & Co., Citigroup Inc. and Goldman Sachs Group Inc. -- topped $29 billion in net income for the second straight quarter, after never before surpassing $26 billion. Here are the main takeaways:
The past quarter was marked by rising trade tensions between the U.S. and its commerce partners, but America's top financiers haven't felt too much heat. Investment banking revenues climbed 10 percent in the quarter, countering fears that uncertainty around global trade would hamper dealmaking.
"It's kind of affecting psyche more than it is economics," JPMorgan Chief Executive Officer Jamie Dimon said Friday on a conference call with journalists.
Every firm except Bank of America posted higher investment banking fees from a year earlier, with Morgan Stanley's 20 percent climb leading the pack. Both Goldman Sachs and Morgan Stanley boasted of large deal backlogs, indicating more fees are coming.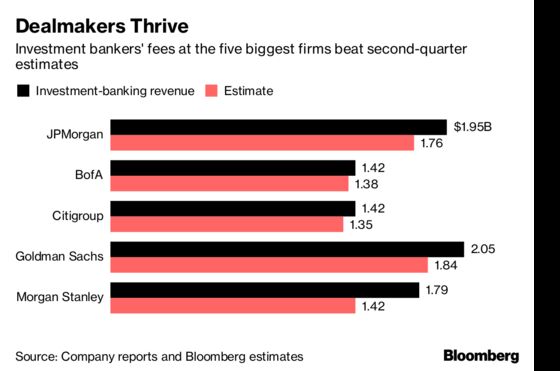 However, some effects from the macro uncertainty are already being felt. Citigroup, which has one of its biggest units in Mexico, has seen its shares fall 6.2 percent this year in part due to escalating tariffs and an emerging-market rout.
Healthy Consumers
Among the bright spots for banks this quarter were consumer businesses, thanks to higher interest rates and low delinquency figures.
Bank of America's consumer unit helped lead the way, posting second-quarter earnings that were its highest in more than eight years, with loans growing 6.6 percent compared with the previous year -- more than the lender's three biggest rivals. JPMorgan used mortgages to drive growth while Citigroup was bolstered by credit-card loans and its Asia business.
"Everything shows us that the consumer-driven U.S. economy is in very good shape," Bank of America CEO Brian Moynihan said on an analyst conference call.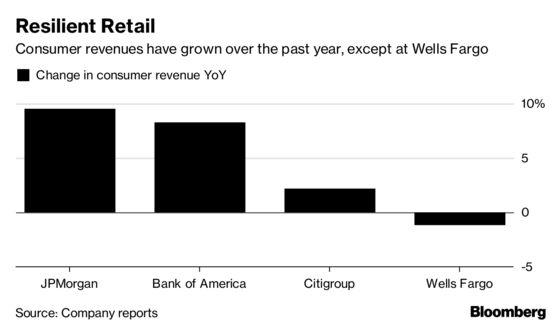 San Francisco-based Wells Fargo is still struggling to regain its footing almost two years since it was fined for creating potentially millions of bogus accounts. In the second quarter, its total average loans fell by $6.9 billion from the prior quarter to the lowest in more than two years. The bank's shares sold off sharply after its Friday earnings announcement.
Wells Fargo, facing a regulatory asset cap, said the loan drop mainly came from the firm staying disciplined in areas that are getting more competitive.
"We do have categories of loans where we've been a little bit cooler," Chief Financial Officer John Shrewsberry said in a Bloomberg Television interview. "We've shrunk a little bit in our commercial real estate exposure year-over-year. We tapped the brakes in auto a few quarters ago."
Banks had forecast a relatively quiet second quarter for the trading business, but a more active June helped them largely surpass expectations. Several banks cited a much better quarter in commodities trading, while Goldman Sachs posted a fixed-income trading rebound from its rough 2017 in Lloyd Blankfein's last earnings announcement as CEO.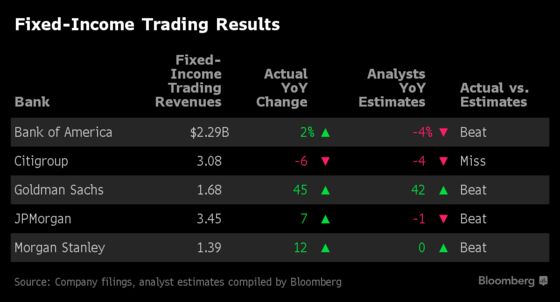 There were some negative surprises. Goldman's equity traders posted an unexpected revenue drop in an area where peers had double-digit growth, while Citigroup's bond unit had a 6 percent decrease in revenue that disappointed investors.