VC Firm Social Capital Set Out to Fix Capitalism. Now It's In Turmoil
(Bloomberg) -- Seven years ago, Social Capital made its debut as one of the hottest venture funds in Silicon Valley, the brainchild of a former Facebook Inc. executive with some grandiose ideas about backing startups that might help humanity. Now, after a flood of prominent departures from the firm and a failed expansion strategy, a number of investors have lost confidence in the remnants of the leadership team and its ability to make good on its initial promises.
At least five investors will not reinvest in the firm's next fund, people with knowledge of their plans told Bloomberg. Those defections come at the same time the firm most needs to fortify such relationships. Social Capital has postponed fundraising at least three times during the past year, and roughly 90 percent of the $600 million from its last fundraise in 2015 is already committed, according to two firm investors.
"I don't think there will be a next fund," a third investor said.
Social Capital Chief Executive Officer Chamath Palihapitiya, an early Facebook employee and now the only remaining co-founder, isn't worried. In a sprawling conversation defending his personal record and the work of the firm, he said that five of the 30 richest men in the world—a group that includes Mark Zuckerberg and Hong Kong billionaire Li Ka-shing—are his mentors and "core" investors in his firm. He indicated those same investors will continue to bankroll his plan to use software and data to overhaul venture investing while backing socially meaningful startups.
"We've been pretty good as an organization in trying to see the horizon. It can be confusing in the moment," he said. "We have to have the confidence to try things."
Palihapitiya, who made prescient, highly profitable bets with his own money on Bitcoin, Amazon.com Inc. and Tesla Inc., is used to doubters. "When I made a huge investment in the (San Francisco Golden State) Warriors, a lot of people scratched their heads," he said. That was in 2011. Since then, the team has won three national championships.
Still, building a venture firm is different from personal investing and building social networks. The industry is steadfast, with turmoil rare. Endowments, pension funds, foundations and other investors in venture firms bet on specific managers and strategies when they commit their cash.
In recent years, Social Capital expanded its focus beyond early-stage venture. Palihapitiya's strategy evolved to have the firm participate at every stage of a company's life cycle: in startups through the venture arm, in more mature companies through the credit facility or the growth fund, in public companies through its hedge fund, and in distressed unicorns through a plan that helps companies go public using an exotic listing method.
Triggered in part by what they saw as strategy sprawl, firm co-founders Ted Maidenberg and Mamoon Hamid both resigned last summer, said people familiar with the matter, who were not authorized to speak for the firm. Last month, venture partner Arjun Sethi called it quits. A few days later growth investor Tony Bates and strategist Marc Mezvinsky, husband of Chelsea Clinton, left. And Jonathan Hsu—the partner who led the data initiative core to how the firm evaluates investments—announced he was leaving earlier this month. Palihapitiya said the firm has several key hires well-versed in data, and in the coming months more "blue-chip technologists" will join.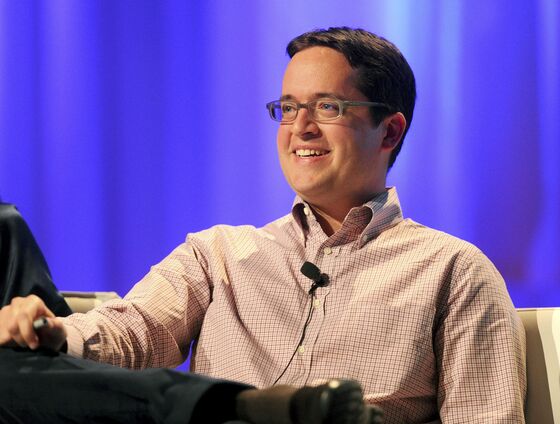 Bates and Mezvinsky didn't respond to requests for comment. Sethi and Hsu declined to comment on their reasons for leaving. Maidenberg, who is partnering with both of them to start new venture firm Tribe Capital, didn't respond to requests for comment.
Hamid said he had an "incredible" experience building Social Capital and left because he wanted to help remake venture firm Kleiner Perkins Caufield & Byers, where he is now general partner and heir apparent to Silicon Valley legend John Doerr.
"They were fantastic contributors," Palihapitiya, 41, said about the half-dozen recent departures. "They're young guys who helped me build a platform and got a shot at this," he said. "I'm sure they will go on to do great things."
Although Palihapitiya shuttered both the growth fund and the credit facility in June after experimenting with them each for about a year before deciding they didn't make sense, the detour unnerved investors. "You give him your capital to do one thing, and he does another," said one investor in Social Capital who, like others Bloomberg spoke to, said it was an unpleasant surprise when Palihapitiya began focusing on non-venture initiatives. "You don't want to see strategy drift and he had that in spades," said another investor, adding that he had voiced his concerns to Palihapitiya two years ago but was ignored.
But Palihapitiya doesn't see it that way. "One has to have the confidence and fearlessness to try things," he said. "I try to be as well-rounded as possible in order to remain open to new ideas and ways of doing business."
Despite investor frustration, Social Capital's returns have been relatively good; the firm's first two funds have delivered annual returns of 8 percent and 27 percent, respectively, according to one investor—putting it in the second quartile of venture funds of the same vintage.
With the firm now gutted of its veteran venture investors, its future is wholly dependent on the smooth-talking and charismatic Palihapitiya, who has a track record of beating the odds and is a skilled operator in the tight circle of the ultra-wealthy.
Palihapitiya's family moved to Canada from Sri Lanka when he was five years old. His dad was unemployed for long stretches of time during his childhood, and he worked at Burger King during high school so his family could afford bus passes.
Palihapitiya attended the University of Waterloo in Canada, where he studied electrical engineering. His timing was good: Palihapitiya joined Facebook in 2007, its early days. He was fresh from a year as a venture capitalist at the Mayfield Fund. Palihapitiya has joked about conflating luck and skill, but people who worked with him in those days talk up his talent.
"The impact of Chamath cannot be overstated," said Lexy CEO Mick Johnson, who overlapped with him at Facebook in 2011. "His ability to transform the growth team into a tactical team was amazing." He excelled at analysis of what would drive users to join and stay engaged, Johnson said, and knowing when a country was on the verge of achieving a critical mass of users. At that point, Facebook would market heavily in that country to beat out competing social media services.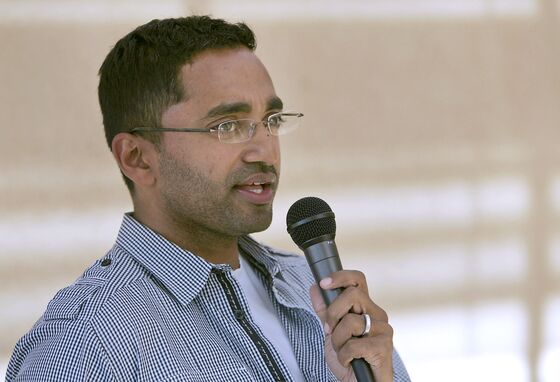 As Facebook's social network grew, Palihapitiya expanded his personal one. He was often an early counselor to entrepreneurs and earned a reputation for being generous and willing to broker introductions and promote people and their ideas. 
Palihapitiya left Facebook in 2011. Having parlayed his $25,000 investment in gaming startup Playdom into $7 million when Walt Disney Co. acquired it, Palihapitiya's credibility as an investor was high. He was itching to infuse the venture industry with what he called "activist capitalism." The idea was to back startups solving big problems in health care, education and financial services. The concept resonated, and he recruited veteran venture investors, Maidenberg and Hamid, to help source and evaluate investments. People lined up to give them money, with Palihapitiya reportedly rejecting 100 or so would-be backers from the first fund.
Investors recall feeling that, at the time, they considered themselves fortunate to write checks. "We're going to be fools not to be involved," one now-disappointed investor recalls thinking to himself. That frenzy led to a dynamic which is now sore spot at the shrinking firm: Palihapitiya wields total power.
Normally, the types of partner defections Social Capital has gone through would trigger a clause in investor contracts, allowing investors more control over the firm, but in this case, those provisions kick in only if Palihapitiya leaves. That is because the agreement with the firm's investors names only Palihapitiya as a key steward, whereas most venture firms cede control if, say, two of three key executives leave. Today, investors say they regret agreeing to that type of control, but at the time, the firm was so hot that they believed demurring would result in being booted from the investor group.
"That's a lot of trust to put in that one relationship," said Norm Bishara, an associate professor of business law and ethics at the University of Michigan who teaches on corporate governance. Normally, "these are team efforts at the top."
At some point last year, Palihapitiya took to frequently referring to himself as "chief executive officer," which riled others at the firm and made venture investors—long used to at least a pretense of equality among a venture firm's general partners—blanch. A spokeswoman for the firm says Palihapitiya has used the CEO title consistently for years.
Some investors said the way the departures have been presented also irks them. "Dear Partners, These are exciting times," kicked off the September email, read to Bloomberg, notifying investors of Hamid's and Maidenberg's departures, days after their defections were reported in the media.
Notably absent from the cheery missive and similar ones sent following the additional defections this summer were concrete details like who would manage the portfolio and whether the partners would be replaced. A spokeswoman for the firm declined to comment on the correspondence.
While rapid changes are crucial for startups to thrive, the venture firms coaching those companies operate differently. Investors provide stability in the form of product and business expertise and a trusted relationship as a sounding board for new ideas that goes beyond simply writing a check.
That's why when partners leave a firm, they often stay involved with the startups they've been working with. Social Capital's Maidenberg is still working with his portfolio companies and Sethi has pledged to, but when Hamid left for Kleiner Perkins, his board seats went to other partners.
Founders at several business-software companies accepted money from Social Capital because they liked Hamid, according to people familiar with the deals but not authorized to speak. As an investor in Yammer and Slack Technologies Inc., Hamid had provided advice on software and growth to help build them into powerhouses. So maybe he could do the same for them, the thinking went.
When Hamid left, business communications startup Front wanted Social Capital gone, too. So when Front raised a fresh $66 million, the startup got other investors to buy out nearly all of Social Capital's shares, according to three people with direct knowledge of the matter but not authorized to speak. Front executives declined to comment, according to a spokeswoman for the company. A spokeswoman for Social Capital declined to comment.
If this pattern plays out across other Social Capital companies, with founders losing faith in the replacement partner and competing venture firms swooping in to snap up more shares of a promising upstart, it will complicate the firm's next steps to rebuild. Partners Kristin Baker Spohn,  Mike Ghaffary and Jay Zaveri are positioned to fill the void along with Palihapitiya.
Meanwhile, a software program dubbed Capital as a Service, built to automate funding decisions for early-stage deals, holds potential. The software has identified common attributes of successful startups and then uses them to pinpoint the best candidates to invest in, with the idea that human biases are eliminated. Palihapitiya called the system "a repeat" of one he helped build at Facebook.
"We've been trying to make decisions in data science that are divorced from emotion," he said. "They are about generating superior returns." Then, he almost immediately added that he's not yet sure it will work.
Separately, the firm's plans to help a late-stage startup use a backdoor method to go public are continuing. Called a Special Purpose Acquisition Company, or SPAC, the method invites investors to line up in advance, before they even know what the underlying investment is. This means the startup, once Social Capital finds an appropriate one, can skip the traditional and often onerous roadshow while still turning their shares into cash; shares of the SPAC are already trading on the New York Stock Exchange.
Social Capital's SPAC, which raised $600 million last year from hedge fund investors and others to find target companies, is still searching for candidates. It has until September 2019 to take that company public, or it must return investors' cash.
If the team pulls off a deal by finding a suitable company and then manages to build up the company's value, investors might bid the SPAC's price above the roughly $10 a share where it trades now. Palihapitiya has suggested that because he and some of his staff oversaw impressive growth at Facebook, they will be able to guide another startup to success. Delivering such outsized returns to investors this way could bolster Palihapitiya's credibility.
To naysayers, the SPAC represents one more example of where Palihapitiya took a high-handed approach. Through a transaction last year, investors in the venture fund now indirectly hold a small interest in the SPAC. Although the venture investors get their money back if the SPAC doesn't find an investment, some were surprised to learn of their participation as sponsors.
Said a fourth investor: "It's blatant disregard for the value proposition," that they sold. A spokeswoman for Social Capital declined to comment on the venture firm's sponsorship of the SPAC.
Palihapitiya describes a grand long-term vision for Social Capital. By 2045, he projects, the firm should employ at least 10 million people through the companies it backs, "positively" impact a quarter of the world's population and cumulatively make $1 trillion. Of course, meeting those goals will become a challenging proposition if investors walk away and partners keep disappearing.
After reciting these ambitions, as he did during a Stanford University event last year, Palihapitiya slows the pace of his normally rapid, expletive-laced speech and strikes a more somber tone. "Decades" of patient commitment and unwavering resolve are needed to achieve these goals, he said.
As to whether he regrets any of his decisions in building Social Capital, he said the only thing he would have done differently is to double down earlier on data science and hire more PhDs in the field to use software to make investment decisions, rather than humans. "I don't think we've broken anything at Social Capital," he said.