Thyssenkrupp Chairman Quitting Adds to German Firm's Turmoil
(Bloomberg) -- Thyssenkrupp AG Chairman Ulrich Lehner resigned, adding to upheaval at the top of the German engineering conglomerate after the chief executive officer quit less than two weeks ago under pressure from disgruntled shareholders.
Lehner decided to leave after realizing he no longer had the confidence of major shareholders or the supervisory board, according to a statement on Monday.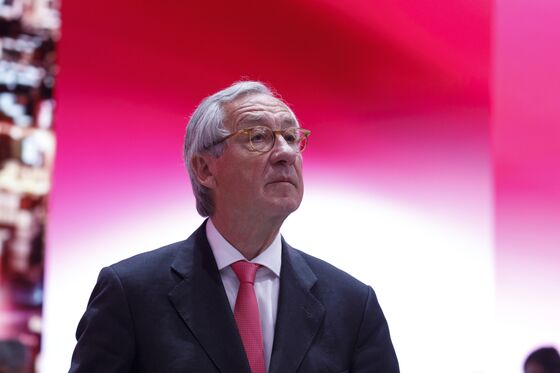 His resignation compounds a leadership vacuum at Thyssenkrupp after CEO Heinrich Hiesinger unexpectedly quit on July 5. The company has faced anger from activist investors including Elliott Management Corp. to transform the sprawling steel-to-submarines business into a higher-value industrial services company.
Analysts at JP Morgan said the latest departure will fuel hopes that the restructuring of Thyssenkrupp can progress faster than it did under Lehner and Hiesinger.
"Lehner had been one of the most vocal naysayers around a potential breakup, thus, if anything, this is likely to reinvigorate, rather than dampen, hopes that this will now be the course for Thyssenkrupp," the analysts said in a note Monday.
The Essen-based company's shares gained as much as 4.4 percent and traded 3.8 percent higher at 21.39 euros as of 9:05 a.m. in Frankfurt. The stock has declined 11 percent this year, valuing Thyssenkrupp at 13.4 billion euros ($15.7 billion).
At the recent meeting to sign off on a deal with Tata Steel Ltd., Lehner clashed with fellow board member Ursula Gather, head of the company's largest shareholder, the Alfried Krupp von Bohlen und Halbach foundation, because she suggested the company mull other options and reconsider the terms of the steel joint venture, according to people familiar with the matter.
Last week, Lehner gave an interview to Germany's Die Zeit newspaper in which he blasted investor attempts to "destabilize" the company with methods that resemble "psychological terror."
"My decision may contribute to creating the necessary awareness with all concerned parties that a breakup of the company and the related loss of many jobs is not an option – neither in the interest of the founder, nor in the interest of the country," Lehner said in Monday's statement.
Lehner, who became chairman in 2013, will step down from the supervisory board as of July 31 and the board plans to name a successor shortly. Last week, Thyssenkrupp named Guido Kerkhoff as interim CEO while it searches for a new leader.
The two resignations come just weeks after Thyssenkrupp and Tata Steel finalized an agreement to set up the European steel joint venture. Large Thyssenkrupp investors, including Elliott and Cevian Capital, were unhappy with the terms of the deal, people familiar with the matter said.