Kashkari Isn't Buying 'This Time Is Different' for Yield Curve
(Bloomberg) -- Neel Kashkari does not want to invert the yield curve.
Given anchored inflation expectations and few signs of overheating, "there is little reason to raise rates much further, invert the yield curve, put the brakes on the economy and risk that it does, in fact, trigger a recession," the Federal Reserve Bank of Minneapolis president wrote in a post Monday on the website Medium.
Kashkari, who's previously expressed discomfort with the flattening curve, joins other Fed officials who've voiced concerns about precipitating an inversion -- a phenomenon where short-run rates rise above long-term rates, and a historically reliable recession signal.
"This time is different. I consider those the four most dangerous words in economics," Kashkari wrote.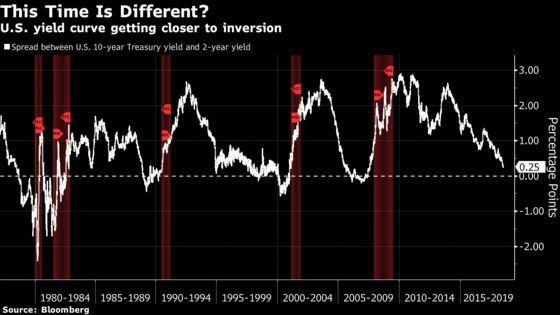 Atlanta Fed President Raphael Bostic said last week that inversion could be a self-fulfilling prophecy if investors believe it will bring recession. St. Louis Fed chief James Bullard says inversions have historically signaled downturns and he doesn't buy that this time is different, and the Dallas Fed's Robert Kaplan is also "loath to say" that an inversion now would break from past experience.
Philadelphia Fed President Patrick Harker doesn't "see why we would move in a way that would invert the yield curve just to do it." John Williams, head of the powerful New York Fed and a permanent voter on monetary policy, has walked a middle line: he said in May that he doesn't think the yield curve will invert, but wouldn't ignore the signal if push came to shove.
Not everyone is sounding the alarm bells. Cleveland Fed chief Loretta Mester has been more relaxed about the flattening. "Just because the yield curve is flat does not necessarily mean lower growth or even a recession," she said in May.
Chairman Jerome Powell testifies before the Senate Banking Committee on Tuesday, with his remarks being published when the event kicks off at 10 a.m. Fed officials are regularly discussing the yield curve, he said in June, and flattening makes "all the sense in the world" as rates increase. Whether he sticks to that line before lawmakers is sure to garner market interest, since any nervousness on his part could signal a slower rate-hiking path ahead.