Goldman Is Said to Take Next Step Toward Post-Blankfein Era
(Bloomberg) -- Goldman Sachs Group Inc. is poised to take another step in the slow exit of Lloyd Blankfein, its longstanding chief executive officer.
The investment bank plans to name company President David Solomon -- whom Blankfein has publicly referred to as his successor -- as its next CEO as soon as Tuesday, when it's set to announce second-quarter results, according to a person with knowledge of the matter. Solomon will take the top job at a later date, with Blankfein staying on in the CEO role for an interim period, the person said.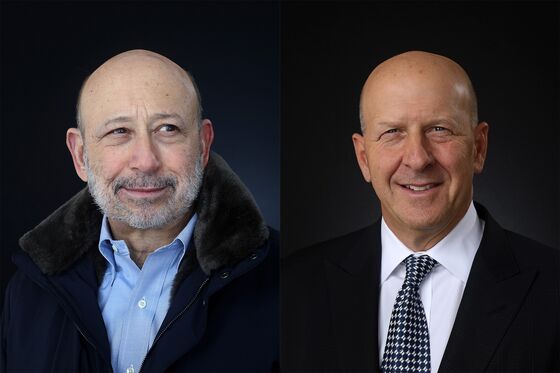 The New York Times reported the plans Sunday evening. Goldman Sachs spokesman Jake Siewert declined to comment.
It's a momentous time for the bank and its industry. Under Blankfein, Goldman Sachs became the most profitable company in Wall Street history, but the former commodities salesman also had to navigate the worst financial crisis in 80 years. More recently, it's had to lean more on its investment banking group -- where Solomon hails from -- and less on the trading franchise.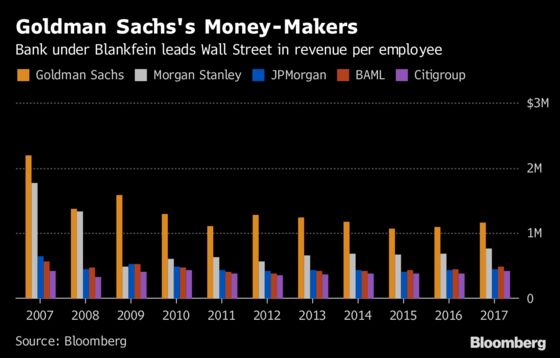 Goldman Sachs has consistently outperformed its biggest rivals when it comes to revenue per employee, even during the crunch years of the financial crisis. The bank's stock performance during the period Blankfein has been CEO is second only to JPMorgan Chase & Co.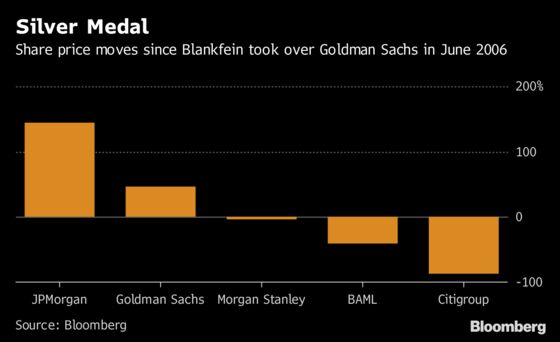 Here's a selection of stories exploring the handover, and what Blankfein's tenure has meant for the most august name in investment banking:
The question of who'd succeed Blankfein was one of the most closely-watched topics in global finance. Solomon's chief rival for the job was Harvey Schwartz, Goldman Sachs's former chief financial officer and a 20-year veteran of the bank who had risen to the position of co-president. Schwartz left the bank in March, when Solomon was named sole president.
Appointing Solomon as CEO would mark a significant shift within Goldman Sachs, which will soon be led by an investment banker after 12 years under ex-trader Blankfein. (Goldman's previous CEO, Hank Paulson, had come up on the investment banking side of the firm.) The bank has been leaning more on investment banking and asset management in recent years as trading revenues have fallen across Wall Street.
Blankfein's looming departure marks the end of an era on Wall Street, which has seen him and fellow New Yorker Jamie Dimon, CEO of JPMorgan, dominate the banking landscape. It's part of a wider succession moment sweeping through finance a decade after the financial crisis, as men in their 60s and 70s prepare their companies for the next act.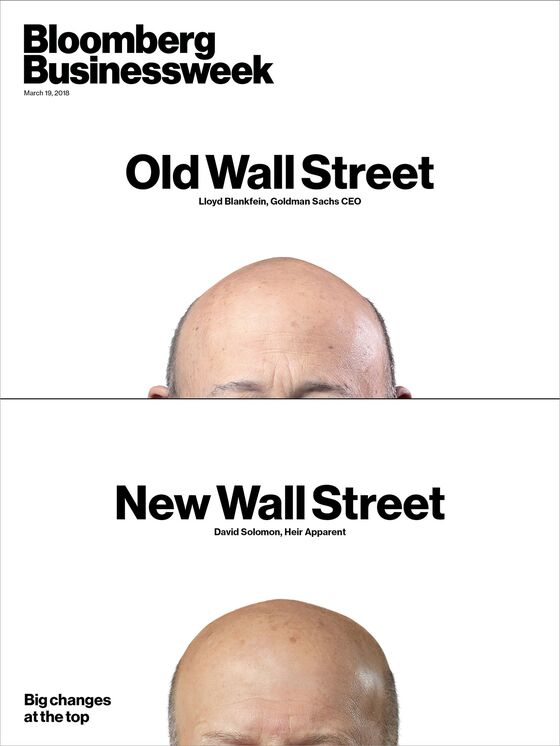 Goldman Sachs's trading franchise, once the envy of its rivals, has faced challenges in recent years, not least from the technological changes in trading that have taken place over the past decade. The bank now finds itself in a battle for supremacy with JPMorgan and Morgan Stanley.
In the years after the financial crisis, Goldman Sachs struggled to recapture its trading revenue peaks. Blankfein turned to three men -- investment bankers Solomon, Richard Gnodde and John Weinberg -- to propel the bank's fortunes in a low-interest, low-volume and low-leverage world.
Read more: Bloomberg Markets Magazine: Blankfein's Bankers