Ellaktor Chief Executive Bobolas to Stand Down Within Next Year
(Bloomberg) -- Even if he wins the battle for control of Ellaktor SA, Leonidas Bobolas plans to make way for new leadership at Greece's biggest construction company.
Bobolas hopes his move will help to end a bitter internal dispute over how to revive the firm that's lost millions of euros in recent years and seen its share performance lag behind peers.
Ellaktor's chairman Anastasios Kallitsantsis quit last month to launch a campaign to replace top management, but Bobolas says the company had already hired consultants to reorganize its governance structure when that happened. As part of that, Bobolas will stand down as chief executive officer before June 2019 so a new one can be installed.
"I believe that with all that's happened the right thing would be for me to hand over in a year and to a professional CEO hired by the new board," Bobolas said in an interview in Athens on Friday. "I'd like to stay on the board. I hope to have a non-executive role supporting new people implement the project we've already started."
Ellaktor was created out of a 1999 merger between Hellenic Technodomiki, controlled by Kallitsantsis and his brother and Aktor, controlled by the Bobolas family and allies. The merger resulted in a conglomerate with interests in wind farms, motorway concessions and waste management, with the component units operating autonomously. Eventually this led to a boardroom split.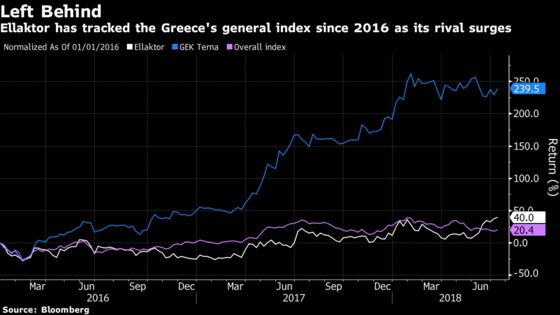 Amid the boardroom dysfunction, the company had a cumulative loss of 370 million euros ($430 million) in the last five years, according to data compiled by Bloomberg. While the county's economic crisis hit the whole construction industry hard, its market value has languished behind rival GEK Terna SA, which has more than doubled since returning to profitability in 2016.
"The companies connected through Ellaktor were family businesses, and because they followed a family logic they were represented on the board by members of the companies that Ellaktor came from," said Bobolas. "That model ran its course and the time had come to change it."
Kallitsantsis's challenge started a war of words between the sides, with each presenting alternative restructuring plans to shareholders, who will have to choose between them at the company's rescheduled annual meeting on July 25. Kallitsantsis has proposed a management team with himself as CEO and former Bank of Greece governor George Provopoulos as non-executive chairman.
Provopoulos said in a Bloomberg TV interview on Thursday that Greece's economic crisis of the past decade was partly due to corporate governance, with the business sector being slower to reform than banking and the public sector.
Aside from corporate governance, the central difference between the sides' visions for the company's future is the role of renewable energy unit Eltech Anemos SA. For Kallitsantsis, who was responsible for the unit, it needs to become a core business.
Bobolas instead argues the company should focus on construction, concessions and waste management. Selling Anemos for the right offer will allow Ellaktor to reduce debt and provide capital for further invest in core businesses, he said. The company has received interest for the unit from private equity funds at the right price, according to Bobolas.
"Right now there's really big interest in the market for Anemos from foreign investors that don't want to have to deal with Greek bureaucracy but believe in Greece," he said. "There's a momentum in the market for such cases, which offer an opportunity to sell if we get a good price."