Analysts Cheer BofA's 'Solid' Quarter, Bank Stocks Climb
(Bloomberg) -- Bank of America Corp. shares are rising after the company posted better-than-expected second-quarter results, including the highest earnings in more than eight years at the bank's consumer unit.
Bank shares across the board are rallying, with the KBW bank index rising as much as 1.6 percent; other top gainers include Citigroup Inc., SVB Financial Group and JPMorgan Chase & Co.
"Solid results at BofA give credence to the view that the healthy U.S. economy is aiding banks," Bloomberg Intelligence's Alison Williams said. "In the near-term, trade worries are actually helping earnings," by supporting fixed income, commodities and currency. At the same time, "broader global macro risk to the domestic economy is the key lingering concern for the outlook."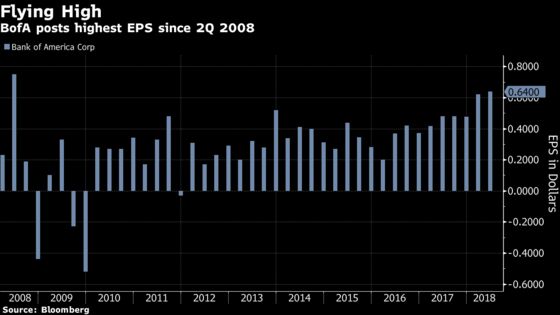 Here's a sample of analyst commentary:
Morgan Stanley, Betsy Graseck
BofA posted a "good quarter" with a beat on stronger fees, including trading, Morgan Stanley's Graseck writes in a note. The bank appears to be on track to meet its 2018 expense target of $53 billion.
"Ultimately, we think core trends were mixed to moderately positive, with NII growth moderating (though a bit better than our below consensus estimate), but expense leverage continuing to buttress operating profitability," UBS analyst Martinez writes in a note.
Martinez also flags BofA's sensitivity to a 100 basis point parallel shift in the yield curve fell to $2.8 billion from $3 billion at the end of the first quarter. He calls expense performance "solid," and says the company seems on track to approach its $53 billion expense target.
"BAC delivered on the 14th consecutive quarter of operating leverage, on core
revenues up 4 percent year-over-year, while core expenses remained flat, with the core efficiency ratio below 58 percent," Ramsden writes in a note. The quarterly beat was driven by lower expenses of $13.3 billion, versus a consensus analyst of $13.5 billion; better card income; and capital markets results.
While NII came in slightly weaker, at $11.8 billion, than Goldman's estimate of $12 billion, and net interest margin decreased to 2.38 percent, Goldman caveats that "much of the NII underperformance can be attributed to deploying balance sheet into the prime brokerage business, which causes funding costs to increase but generates fee revenue."