Boeing, Airbus Duel Over Billions in Orders: Farnborough Update
(Bloomberg) -- Billions of dollars are at stake as the world's largest planemakers, Boeing Co. and Airbus SE, duel over orders this week at the Farnborough air show outside of London, the biggest event of its kind this year.
Beyond the order avalanche, manufacturers, suppliers and airlines use the event to haggle over contracts and float ideas for new planes and ventures. Military chiefs and governments hammer out arms deals and announce defense initiatives. Farnborough, which alternates with the Paris air show, is also a showcase for new technology and ideas, from flying taxis to space flight.
We are following developments in real time. Time stamps are local for London.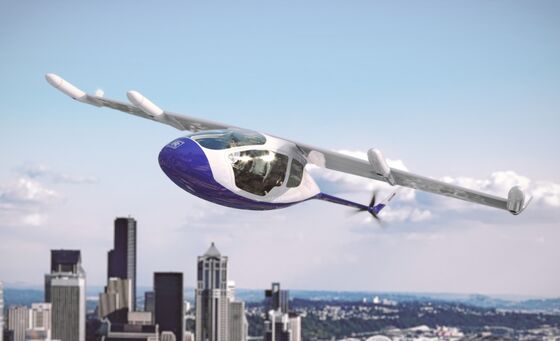 Pushing the Envelope (11:35 a.m.)
Airbus commercial-aircraft chief Guillaume Faury said the planemaker will sit down with engine manufacturers towards the end of the year to consider the next phase in their production increase. At the moment, Airbus is taking monthly output of its workhorse A320 family to 60 units from 50, but given the high demand, there's room to go further, Faury said. To do it, the company needs to make sure that key suppliers such as the engine manufacturers can keep up, which is why those discussions will be crucial, he said.
"It has to be done in a way that is good enough, so that when we we take commitments from customers, we can then deliver," Faury said in an interview with Bloomberg Television at the Farnborough air show. Any ramp-up of production to 70 units or beyond would be a topic for the next decade, he said.
Buying on Spec (11:35 a.m.)
Toby Bright once used to strike deals for the Boeing Co. 737 jetliner when he was the planemaker's chief salesman more than a decade ago. Today he was the buyer. Jackson Square Aviation, the aircraft financier that Bright leads, announced an order for 30 of the Max, Boeing's latest 737 model. The San Francisco-based company, founded in 2010, buys new-technology jetliners from airlines and leases them back to the carriers. It now has a portfolio of more than 180 jets. "We have carefully evaluated how speculative orders can enhance our long-term business model, and this transaction signifies the next step in that development," Bright said in a statement.
Boeing CEO: Trade 'a Concern' (10:18 a.m.)
Boeing CEO Dennis Muilenburg said the possible fallout from the U.S.-China trade dispute is a concern for the Chicago-based manufacturer. Aerospace thrives on free and open global trade, Muilenburg said in a Bloomberg Television interview, and finding solutions is "an important topic to us."
Asked if European rival Airbus might benefit from the tensions, Muilenburg said "it's a concern we have," though there are unlikely to be any sudden shifts in the order backlog or delivery pattern. He said Boeing has deep relationships with China and is engaged in a "very good dialog" with local customers. China needs a positive contribution from the aerospace industry to help fulfill its growth ambitions, while Boeing and its suppliers help generate a massive trade surplus as well as manufacturing jobs in the U.S. Finding a positive outcome is important for both sides, he said.
Airbus Seals Sichuan, StarLux A350 Deals (10:18 a.m.)

Airbus announced orders totaling $9.2 billion at list prices for its next-generation A350 wide-body. Taiwanese startup StarLux Airlines said it is buying 12 A350-1000 aircraft and five of the smaller A350-900s in a deal valued at $6 billion at list prices that exclude customary discounts. Sichuan Airlines Corp. will purchase 10 of the widebody planes. The A350-900 carries a tag of $317.4 million apiece, valuing the mainland carrier's order at $3.2 billion. Sichuan will also lease four of the planes.
Boeing Strikes First (8:34 a.m.)
The U.S. manufacturer got things going with a $4.7 billion order from DHL for 14 777 freighters and purchase rights for an additional seven. The new order will double DHL's global 777 fleet and help it curb emissions, the delivery service said.
Heading into the show, Toulouse, France-based Airbus was closing in on orders totaling $29 billion, based on list prices, from two Asian carriers, Malaysia's AirAsia Group Bhd., and Taiwanese startup StarLux Airlines. The $23 billion AirAsia deal would give a boost to Airbus's slow-selling A330neo wide-body, while adding to the order pile for the popular A320neo narrow-body family. AirAsia would become the biggest customer for the marquee jet. StarLux, founded by former Eva Airways Chairman Chang Kuo-wei, is aiming to start long-haul service to North America by 2021.
Airbus is seeking to jump-start the order book for its newly acquired C Series small jetliner, now dubbed the A220. Going into Farnborough, the planemaker was trying to iron out the last hurdles to a 60-jet order from David Neeleman, founder of JetBlue Airways Corp., and a group of investors who are trying to start a new U.S. low-cost airline. The A220 program got an important vote of confidence from Air Lease Corp. founder Steven Udvar-Hazy, who told Bloomberg the A220 is "a more attractive prospect" under Airbus. "This has changed the whole landscape in terms of its credibility.''
The largest manufacturer of jet engines, CFM International Inc., has a message for Airbus and Boeing executives who're mulling a boost in production of their narrow-body jetliners next decade: not so fast. Airbus and Boeing are undergoing an unprecedented order boom fueled for single-aisle jets driven by fuel-saving planes and growth in air travel, especially Asia. That's put pressure on suppliers -- especially engine manufacturers -- who have fallen behind on orders.