It's Getting Tougher for Big Banks to Add Mobile Users 
(Bloomberg) -- The biggest banks' push into mobile is running out of low-hanging fruit.
Bank of America Corp. added active mobile customers at a slower pace for at least the fourth quarter in a row in the three months through June, according to the company's earnings reports. JPMorgan Chase & Co.'s active mobile customers increased 2.4 percent in second quarter. A year earlier, the jump was 4.1 percent.
"You're not seeing as significant growth rates in digital, and the deceleration I think is coming from increased penetration," Gerard Cassidy, an analyst at RBC Capital Markets, said in an interview. "It becomes more difficult to maintain those high growth rates."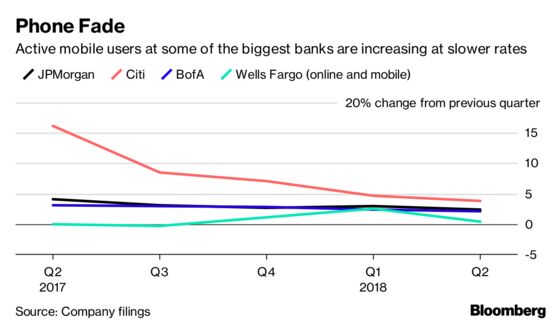 Still, banks are seeing their investments in technology pay off.
Bank of America Chief Executive Officer Brian Moynihan said Monday that digital now accounts for 24 percent of all sales in the bank's consumer business, and the adoption rate is increasing for some newer products like the payment app Zelle.
Wells Fargo & Co.'s chief financial officer, John Shrewsberry, said more than 40 percent of new card accounts in the second quarter originated through digital channels.