Beijing Loves Xiaomi. It Just Shows It Differently
(Bloomberg Opinion) -- Xiaomi Corp. has caught a lot of breaks from Hong Kong and its stock exchange.
China isn't playing ball. Yet.
The Hong Kong-Xiaomi relationship is crucial, and symbiotic. For one, Hong Kong Exchanges & Clearing Ltd. ended a ban on dual-class listings that allowed founder Lei Jun to keep control of the smartphone maker and have his IPO too. It also allowed HKEX to bag a high-profile tech unicorn. The bourse lost Alibaba Group Holding Ltd., and didn't want to miss out again.
Xiaomi didn't have too many other options, either. A China listing was out of the question because it doesn't have a track record of profitability. A U.S. listing was possible, but the poor performance of wearables subsidiary Huami Corp. in New York shows skipping this avenue may have been a smart choice.
China, on the other hand, isn't making life easy. Much has been made of Xiaomi's fumbled attempt to list China depositary receipts at the same time as its Hong Kong debut. This never made sense, and I suspect Xiaomi was just playing along to appease Beijing. Remember, Chinese policymakers are just as desperate to land a big tech listing as Hong Kong. Exhibit A: Foxconn Industrial Internet Co. and its red-carpet treatment.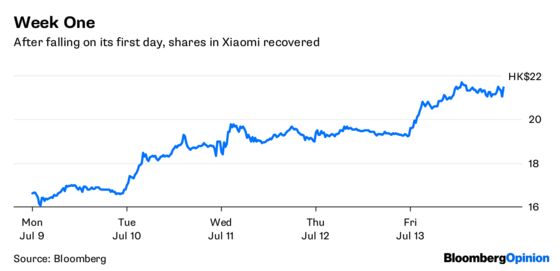 But Beijing doesn't seem keen on bending its listing rules for unprofitable companies, or rewarding those that opt for dual-class structures. The fact Lei Jun chose to implement voting rights that give his stock 10 times the weight of ordinary shareholders' may not have been well-received.
As a result, China's stock exchanges said over the weekend they won't allow mainland investors to buy shares with weighted voting rights in Hong Kong. In other words, the Hong Kong-China stock connect is closed to Xiaomi.
That news was cited as reason for Xiaomi's drop of as much as 9.6 percent Monday morning, but after an 11.4 percent climb on Friday, it's probably just profit-taking.
Investor protection was the grounds given for China's restriction, which includes a ban on trading in foreign firms and stapled securities.
I think this is a red herring, as it pertains to Xiaomi.
While 10:1 voting rights that favor Lei Jun are a bit egregious, I don't imagine that a dual-class structure, on its own, creates much of a hazard. The fact Xiaomi has an untested business model that's chronically unprofitable ought to be of greater concern.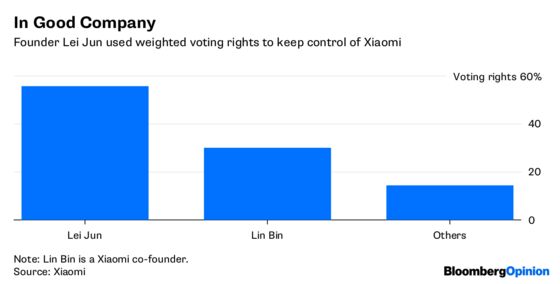 By preventing investors from buying Xiaomi via the stock connect, Beijing secures for its own bourses a monopoly over mainland trading in a hot stock once CDRs do eventuate.
China will want to avoid launching CDRs to a lukewarm reception. News last week that the first batch of CDR-focused mutual funds only raised about one-third of their upper limit shows this is a real possibility. There's every likelihood Xiaomi's CDR listing will come — I predict within a year.
So while it looks on the surface that Chinese regulators don't love Xiaomi as much as those in Hong Kong do, it's likely Beijing simply wants to maximize the CDR bang for its buck when it does eventually pull the trigger.