Arconic Breakup Is More Logical Than Buyout
(Bloomberg Opinion) -- Selling off Arconic Inc. to a private equity firm would be the easy way out.
Shares of the metal-parts manufacturer jumped as much as 14 percent on Monday after the Wall Street Journal reported buyout firms including Apollo Global Management had expressed interest. No deal is imminent, and it's unclear if the firms are interested in acquiring all of Arconic or just pieces of it. The latter arguably would make more sense: Applying a 20 percent premium to Arconic's unaffected share price would indicate a deal value of about $15 billion, including debt. That would be one of the biggest U.S. buyouts of the past five years.
Also consider that a 20 percent premium would imply a per-share purchase price of about $21. That would be a pretty good deal for private equity buyers, who would be purchasing the company at a valuation of about 8 times forward Ebitda, a discount to peers. Not only that: Arconic commanded a higher price before activist investor Elliott Management Corp. launched a proxy fight in January 2017. That battle eventually led to CEO Klaus Kleinfeld's ouster and Elliott negotiated a significant overhaul of the board, including the appointment of portfolio manager Dave Miller in December.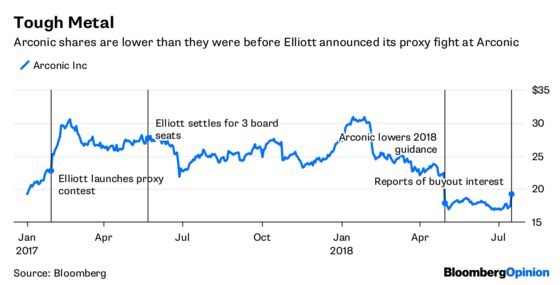 Arconic's disappointing performance in the intervening year has largely been the result of circumstances beyond Elliott's control. These include rising input costs on the back of aluminum tariffs and sanctions on Russian producer United Co. Rusal, as well as greater-than-foreseen mismanagement by outgoing leadership. Against that backdrop, some shareholders may be happy to recover some of their losses via a takeout premium and move on. Even so, Elliott's campaign for change at Arconic was based on the premise that it had better ideas for how to run the company. So it's hard to escape the feeling that a full-blown buyout at today's prices would be a mark against its operational chops and appetite for long-term turnaround campaigns.
Morgan Stanley analyst Rajeev Lalwani says a buyout may make sense, in part because he sees an opportunity for meaningful improvements in Arconic's cash-flow metrics. The current weakness is the result of a need to increase investments to better meet aerospace production ramps, he says. I'm not sure why Elliott would want to hand that upside potential to a private equity firm.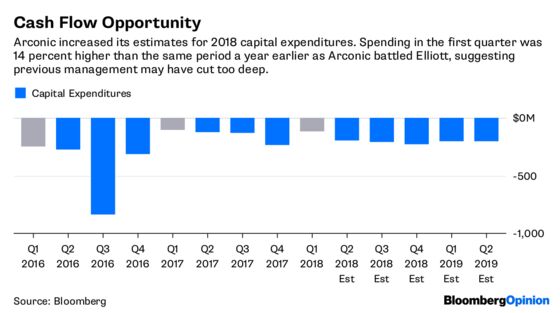 To me, that suggests that a breakup of Arconic may be more likely, with private equity picking up some of the pieces rather than the entire company. A plausible alternative could be to split out Arconic's global rolled-products division and its construction-solutions business, either together or separately. That would leave behind wheels production and Arconic's aerospace-focused engineered products division. New CEO Chip Blankenship would be able to better focus his turnaround efforts and could be in a stronger position to think about acquisitions for the aerospace business as Boeing Co. and Airbus SE's push for lower costs forces the industry to consolidate.
Even that outcome would seem to contrast with the tenor of Elliott's campaign at Arconic and its talk of being focused on long-term change rather than short-term fixes. But at least it would keep the activist investor in the game.
Brooke Sutherland is a Bloomberg Opinion columnist covering deals and industrial companies. She previously wrote an M&A column for Bloomberg News.