Arconic Logs Record Jump on Speculation of Private-Equity Buyout
(Bloomberg) -- Arconic Inc. surged early Monday amid speculation that well-heeled buyout firms have set their sights on the aeronautics-parts maker.
While Arconic is facing a number of operational challenges, the company is a "plausible" takeover candidate, Morgan Stanley analyst Rajeev Lalwani said in a note after a report that Apollo Global Management LLC and other private-equity investors have expressed interest in a deal. Arconic's weak cash generation and attractive valuation give potential buyers "favorable entry and exit points," Lalwani wrote.
The possibility of a buyout adds a new wrinkle to Chief Executive Officer Chip Blankenship's review of the beleaguered manufacturer. Since taking the helm in January, the former General Electric Co. executive has announced a relocation of the headquarters and pledged to examine the portfolio after acknowledging operational shortfalls.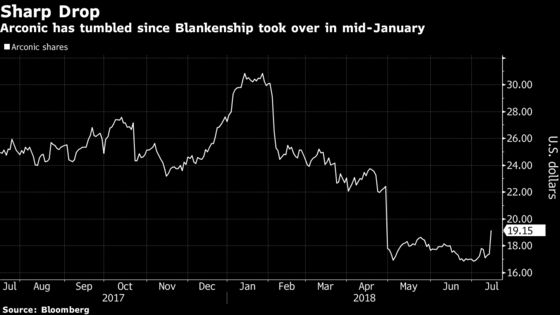 Arconic's stock was down 44 percent Friday from a 52-week high on Jan. 16, the day after Blankenship took over, leaving it with a market value of $8.39 billion. Part of the decline was from tensions concerning the U.S. aluminum and steel tariffs that have roiled metals producers.
The shares jumped 11 percent to $19.28 at 10:37 a.m. Monday in New York after advancing 14 percent, the most since Arconic started trading in November 2016.
The Wall Street Journal reported late Friday on the interest from buyout firms and said no deal was imminent. Representatives of Arconic and Apollo declined to comment.
Arconic could be valued at $24 to $26 a share in a takeover -- a premium of as much as 50 percent over the closing price Friday -- according to Credit Suisse analyst Curt Woodworth. The company has strong shares of the automotive and aerospace markets, which both have growth potential, he said in a note.
Arconic is still working to move past a tumultuous stretch following its 2016 separation from aluminum producer Alcoa Corp. A proxy fight with activist investor Elliott Management Corp., its largest shareholder, led to the departure of Klaus Kleinfeld as CEO last year. Separately, an Arconic product known as Reynobond PE was used in the cladding of London's Grenfell Tower, which caught fire last year, killing at least 80 people.
Blankenship in April slashed the forecast due to rising aluminum prices and business inefficiencies. He intends to complete the strategic review this quarter.
Separately, Arconic on Monday announced a multiyear deal to supply aluminum sheets and plates to Boeing Co., the companies' largest contract to date.