Wells Fargo Breaks From the Herd on Loans, Saying It's Time to Be Prudent
(Bloomberg) -- With interest rates rising and borrowers keeping up on payments, bank shareholders want to see which lenders are taking advantage. One big firm is hanging back.
Wells Fargo & Co., under the thumb of a regulatory asset cap, rattled investors Friday by posting the only decline in loans as the top U.S. banks began reporting quarterly results. While JPMorgan Chase & Co. and Citigroup Inc. found areas to expand, Wells Fargo cut both consumer and commercial lending. It also had the smallest jump in interest income.
The company's stock fell as much as 4.3 percent before erasing much of the loss, as executives offered an explanation: They're being smart about risk.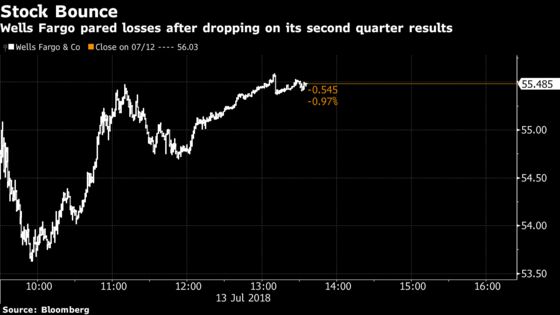 Old-fashioned lending is back at the front of investors' minds this quarter as they look for signs banks can take advantage of a long-awaited uptick in rates. Sweeping U.S. tax cuts are supposed to help too, giving relief to consumers and prodding companies to expand. At JPMorgan, Chief Executive Officer Jamie Dimon sought to reassure shareholders that a mounting trade war isn't yet dragging much on client activity.
His firm leaned on growth in mortgages and loans to mid-sized companies to drive a 7 percent jump in what the company considers core loans from a year earlier. Citigroup posted a 6 percent increase helped by growth in credit-card loans and the firm's Asia business.
At Wells Fargo, Chief Financial Officer John Shrewsberry played down the impact of a Federal Reserve ban on increasing the bank's assets. The regulator announced that unprecedented step in February after the firm got caught in a series of scandals for abusing consumers. Executives must address internal controls before growth can resume.
"The decline in loan balances was not related to any actions we took in connection with the consent order," Shrewsberry told analysts on a conference call. Instead, he said the bank has been selling portfolios of debts, and exercising discipline in areas such as auto lending and consumer and commercial real estate.
The moves provided a bright side for Wells Fargo. The firm generated a $479 million gain from selling off some crisis-era loans. And while its net interest income rose just 1 percent, that pushed it to a record high.
While loan quality has largely held up, Wells Fargo's decisions may add fuel to concerns among some investors that the credit cycle is turning, and that defaults could rise. In May, CEO Tim Sloan joined a growing number of financial industry executives in flagging commercial real estate, saying some rivals are entering transactions that appear "frothy."
As construction starts to slow, competition to provide financing is increasing, leading to a deterioration in underwriting standards, he told analysts on Friday.
"It's nowhere near what we saw in 2006 and 2007, where we were literally telling folks to put their pencils down," Sloan said. "But, again, you need to be prudent."
For now, Wells Fargo's net interest-income increase paled compared to JPMorgan's 10 percent jump and Citigroup's 4 percent climb. JPMorgan said it expects its lending to expand at a similar pace for the rest of the year as companies finance mergers and acquisitions. Competition has become "acute" for auto and retail lending, CFO Marianne Lake noted Friday.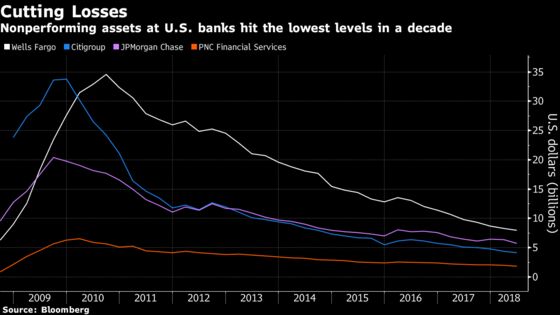 While it's a longstanding rule that banks benefit from rising rates, investors have worried about other developments that could get in the way. Those include a flattening yield curve that has reduced the spread between short-term and long-term rates, as well as concerns that banks will have to pass a larger share of rate hikes onto depositors, a measure known as deposit beta.
"Despite all the bears' hand-wringing about rising deposit betas, the benefit of rising rates is clear," Oppenheimer analyst Chris Kotowski said.