Hedge Funds Curb Bets on Rising Oil Price Just as Rally Falters
(Bloomberg) -- Hedge funds are showing signs of wavering confidence in ever-higher oil prices.
Money managers were taking money off the table before Brent had its worst day in two years on Wednesday. Bets on rising prices for the international benchmark fell for a second week in three, while contracts wagering on a drop in the U.S. oil price rose the most since May -- with bets on a rally barely budging.
"The market definitely saw a pullback of commitments on the long side," said Phil Flynn, a senior market analyst at Price Futures Group Inc. in Chicago. "It might be choppy here for the next couple days but the big picture is we still have a very tight market."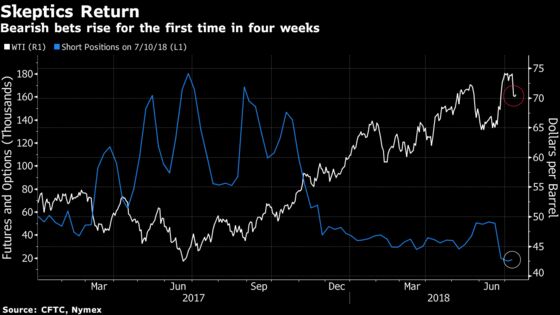 West Texas Intermediate crude ended the week 3.8 percent lower, following a U.S. threat to impose tariffs on $200 billion of Chinese goods, with China vowing to retaliate. At the same time, Libya's state oil producer restarted output from a major field that had been shut for months, and in Canada, the Syncrude oil sands complex is working to resume production by September.
"We had enough of a recovery toward the end of the quarter that it's very much going to be a wait and see," said Peter Sorrentino, the Dallas-based chief investment officer of Comerica Asset Management Group, which oversees $43 billion. "I don't think any heroics are going to take place."
Hedge funds cut their WTI net-long position -- the difference between bets on a price increase and wagers on a drop -- by 0.1 percent to 433,938 futures and options during the week ended July 10, according to the U.S. Commodity Futures Trading Commission. Longs rose 0.3 percent, while shorts jumped 7.8 percent.
They reduced their Brent net-long position by 2.1 percent to 447,801 futures and options, the least bullish in five weeks, according to ICE Futures Europe data. Longs dipped 2.1 percent and shorts fell 2.3 percent.
"The end of the outage in Libya and trade fears ultimately took the reins," Bart Melek, head of commodity strategy at Toronto Dominion Bank, said in a note Friday. "We suspect that money managers likely aggressively liquidated their length in crude this week."
Money managers increased their net-long position on benchmark U.S. gasoline by 7.8% percent and boosted their net-bullish position on diesel by 8.2 percent.