Citigroup Shares Decline After Bond-Trading Revenue Slides
(Bloomberg) -- Citigroup Inc. shares slid Friday after the bank's traders underperformed their peers at its biggest rival.
The firm cited a "challenging" market environment in the second quarter as fixed-income revenue fell 6 percent, a bigger drop than analysts expected, while JPMorgan Chase & Co. posted an increase. Citigroup reported a 19 percent increase in stock trading that also trailed JPMorgan.
Citigroup shares declined 1.9 percent to $67.20 at 1:31 p.m. in New York.
While gains in other parts of the bank's business, such as helping companies handle cash abroad, lifted Citigroup's profit in the quarter, investors frowned on the relative trading performance. It marked a step backward, after Citigroup challenged JPMorgan in recent quarters for the top spot in fixed-income trading.
"The biggest decline in our fixed-income revenues year-over-year was really in spread products, and that was really concentrated in securitized markets," Chief Financial Officer John Gerspach said on a conference call with reporters. The company had expected "equities would be a stronger performer and we'd see some challenges in fixed income given the overall market conditions and that's exactly what played out."
The firm's efficiency ratio -- a measure of costs per each dollar of revenue -- increased slightly to 58 percent in the second quarter, compared with 57.9 percent in the first three months of the year. The company said it is on track to pare that closer to 57 percent for the full year.
Analysts on Friday questioned how realistic that target is for Citigroup: The first half often yields the most revenue for U.S. banks, meaning it can get harder to improve the ratio as the year progresses unless the bank finds ways to pare spending.
There were positives for Citigroup. Even as a global trade war looms, revenue from the firm's treasury and trade solutions business jumped to a record $2.34 billion in the second quarter, up 11 percent from a year earlier.
Citigroup draws more profit from abroad than any U.S. rival, which gives investors reason to worry. President Donald Trump's escalating tariffs, an emerging market rout and the rise of a firebrand populist in Mexico -- where Citigroup operates one of its largest units -- contributed to a 7.9 percent drop in the shares this year through Thursday, the second worst performer in the KBW Bank Index.
In recent months, Citigroup executives said they're succeeding in persuading global companies to entrust their cash to the bank. Rising interest rates are boosting the profit it earns on deposits.
Such growth is especially desirable because it's "sticky," fueling earnings over time, Chief Executive Officer Michael Corbat told investors in late May.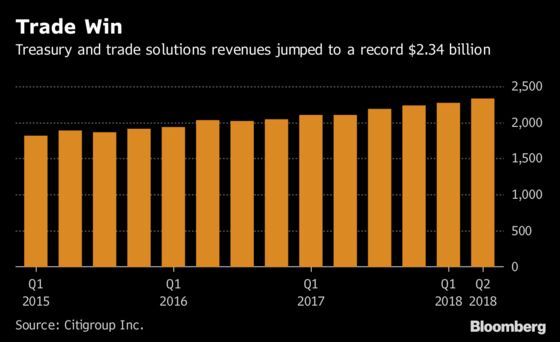 While companywide revenue and operating expenses were in line with analysts' projections, the bank still managed to beat profit estimates. That's because its cost of credit improved, helped by a segment that includes assets being wound down.
The firm's U.S.-branded card business -- which includes proprietary products such as the Citi Double Cash card and co-branded offerings like its partnership with Costco Wholesale Corp. -- posted a 1 percent revenue drop. Executives previously said they expect such revenue to increase 2 percent for the full year. Total card loan balances declined from the previous quarter, even as spending rose.
The firm's investment-banking business held up better than analysts predicted, generating $1.42 billion, helped by a 14 percent increase in advisory revenue. Across the industry, bank executives have warned that a trade war could lead companies to put off acquisitions and capital expenditures, damping dealmaking.
Here's a summary of Citigroup's earnings:
Net income jumped 16 percent to $4.5 billion in the quarter, or $1.63 a share. That beat the $1.57 average estimate of 14 analysts surveyed by Bloomberg.
Revenue increased 2 percent to $18.5 billion.
Operating expenses were flat compared with the same period a year ago at $10.7 billion.
Revenue from equities climbed rising 19 percent to $864 million. The average estimate was for $910 million.