American Tire Says It Can Grow Without Goodyear and Bridgestone
(Bloomberg) -- American Tire Distributors Inc., seeking to bolster itself after two of the biggest brand names pulled their business, said other suppliers will fill the gap and that it's already posted sales gains in the first half of this year.
ATD, North America's largest tire distributor, had "strong success" in converting to other suppliers and has a "robust pipeline of new business generation," the company told lenders during a conference call Friday. First-half sales advanced 5 percent from the same period last year as it continued to sell off Goodyear and Bridgestone tires still in its inventory, according to ATD. Its deeply distressed bonds rallied to their best levels for July.
"We believe this accelerated growth reflects the ongoing initiatives we have been implementing as well as customers' responses to the TireHub," Chief Financial Officer Bill Williams said, referring to the new competing venture set up by tire manufacturers.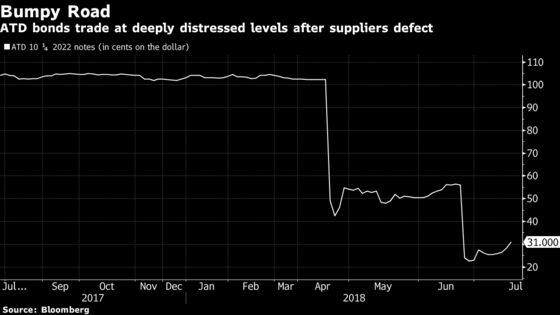 ATD's shift follows back-to-back blows from Goodyear Tire & Rubber Co. and Bridgestone Corp., which cut back on business with ATD in favor of their own distribution networks. The company's debt securities have tumbled to distressed levels, with the bonds selling for less than a third of their face value. The 2022 notes rose 2.75 points to 31 cents on the dollar at 11:50 a.m. in New York.
The company previously brought in restructuring law firm Kirkland & Ellis to help overhaul its debt load. Some of ATD's largest bondholders including Goldman Sachs Group Inc. and GoldenTree Asset Management have consulted with law firm Akin Gump, according to people with knowledge of the matter.
The group, which holds a majority of the 10.25 percent senior subordinated notes due 2022, is evaluating options including exchanging their unsecured holdings into more senior debt. The company had about $2.4 billion in total debt as of the end of June, according to a person with knowledge of the situation.
Representatives for Kirkland and Goldman declined to comment. GoldenTree and Akin Gump didn't immediately return messages seeking comment.
"We are growing existing relationships and driving new business development and receiving great support from customers," Williams said on the call. The executives didn't take questions during the session. ATD will continue sales of Bridgestone inventory through August and Goodyear products through September, the company said.
Chief Executive Officer Stuart Schuette told the lenders that the company's market position allows it to develop proprietary data and analysis. "We bring those insights to our customers to help them drive more product, sales, operate more profitably and frankly build a stickier and more resilient relationship with us," Schuette said.
Hitin Anand, a senior credit analyst at CreditSights, said he found it interesting that ATD managed to increase sales in the second quarter, with Continental and Cooper brands probably filling the gap left by Goodyear and Bridgestone. But it's "still a very fluid credit story for ATD, as the business model viability is under stress with this capital structure," he said in a message.
Goodyear accounted for 5 million units in 2017, according to ATD, which said on the call it had about $300 million in liquidity at the end of the second quarter.
American Tire started as a single store in North Carolina in 1935 and grew to become the largest distributor in North America with 140 outlets and 4,000 employees. Currently owned by TPG Capital and Ares Management LP, the company had $5.3 billion in revenue last year, according to Moody's Investors Service.