Thailand Says It Is Strong Enough to Withstand Trade War
(Bloomberg) -- Thailand's economy is strong enough to withstand the risks of a trade war and the volatility engulfing emerging markets, Industry Minister Uttama Savanayana said.
"Our economy is strong enough," Uttama said in an interview with Bloomberg TV on Thursday in Bangkok. "It has the strength to deal with the external impact of all the things that are happening today. Financially, we are in good shape. The Bank of Thailand, the Ministry of Finance always make sure we go by the financial targets, leverage and so on."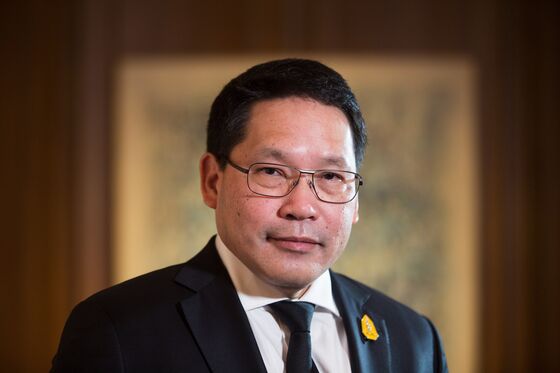 The Thai economy has been resilient in the face of rising oil prices and emerging-market pressures sparked by climbing U.S. interest rates. Growth quickened to 4.8 percent in the first quarter, the fastest pace in five years, and inflation remains muted. The central bank has held interest rates near a record low since 2015.
The government is focused on its roadmap plan called Thailand 4.0, which involves massive upgrades of airports, seaports and railways, Uttama said separately in his speech at the Bloomberg Asean Business Summit on Thursday. Priority industries include auto, electronics, and agriculture while robotics, aviation and health care are also being developed, he said.
At the heart of Thailand's industrial plan is the Eastern Economic Corridor, which seeks about 1.7 trillion baht ($51 billion) of investment from 2017-2021 to spur advanced industries and add infrastructure. Thailand has worked to attract interest from China and Japan, even as some analysts have expressed doubt about the potential impact of the policy.
There are signs that Thailand will not be spared from the emerging-market selloff this year. The baht has weakened more than 2 percent this year and is trading at a nine-month low.
"Market volatility is something that we all have to live by today," Uttama said. "It's the internal strength, the strength of the country that will determine how we manage the external volatility and I think we are doing OK on that."
Southeast Asia's second-largest economy has been run by a military government since a coup in May 2014. Thailand is on track for general elections early next year, Uttama said.
"Thai people are expecting stability to continue," he said. "So no matter what government comes in, that will be expected."