Peru Keeps Rate at 2.75% to Bolster Copper-Fueled Rebound
(Bloomberg) -- Peru kept borrowing costs at their lowest level in almost eight years to maintain stimulus to an economy undergoing an a broad recovery fueled by a rebound in mining investment.
The central bank board, led by bank President Julio Velarde, maintained the benchmark lending rate at 2.75 percent Thursday for a fourth consecutive month, matching the forecast of all 13 economists surveyed by Bloomberg.
Peru's economy is set to post its fastest growth since 2013 in the second quarter as it recovers from devastating floods a year earlier. A rosier outlook for copper prices is spurring mining outlays and helping to pull the construction industry out of a three-year slump.
Inflation trend indicators rose last month while remaining close the center of the target range, the central bank said in a statement accompanying the decision. Economic activity shows "clear signs" of dynamism and inflation will converge to 2 percent towards the end of the year, it said.
The board considers it appropriate to keep rate policy expansive until it's sure said convergence is taking place in a context of anchored inflation expectations and economic activity close to its potential, the statement said.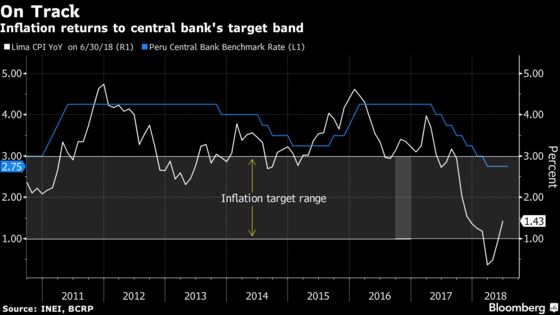 Policy makers will probably continue to keep monetary policy loose until investment and employment growth are on a sounder footing, said Francisco Grippa, principal economist at BBVA Banco Continental.
"The central bank's stance is expansive, and it's important that it remains so to fuel the recovery" Grippa said by phone from Lima before the decision. Policy makers after last month's meeting said that growth remained below potential and that they are in no hurry to start tightening policy.
Annual inflation returned to the central bank's target range in June after hitting an eight-year low in March and will accelerate to around 2 percent by year-end, Velarde said last week.
While the growth rebound is partly statistical, indicators from bank loans and cement demand to payrolls and sales tax revenue point to a cyclical recovery in the economy. Mining investment rose 34 percent in the first five months of 2018 from a year earlier while mining exports rose 20 percent, led by copper and zinc.
The central bank kept its economic forecast for 2018 unchanged at 4 percent last month and said it expects the output gap to close next year. Finance Minister Carlos Oliva, who was appointed last month, said the government will likely raise its 2018 growth to 4 percent after it was cut to 3.6 percent under his predecessor.
Grippa said the rebound in investment and household spending has been stronger than expected and while government spending on infrastructure has disappointed, efforts to accelerate reconstruction should bear fruit in the second half of this year.