Northrop to Hand Reins to Operating Chief as CEO Plans Departure
(Bloomberg) -- Northrop Grumman Corp. said operating chief Kathy Warden will take over as CEO next year following Wes Bush's unexpected decision to leave the top job at the defense giant.
With Warden's appointment, the company will join a growing cadre of major U.S. contractors with women at the helm, including Lockheed Martin Corp. and General Dynamics Corp. Boeing Co.'s defense business is led by a woman, too. Warden's elevation comes less than a year after she was named Northrop's chief operating officer and president.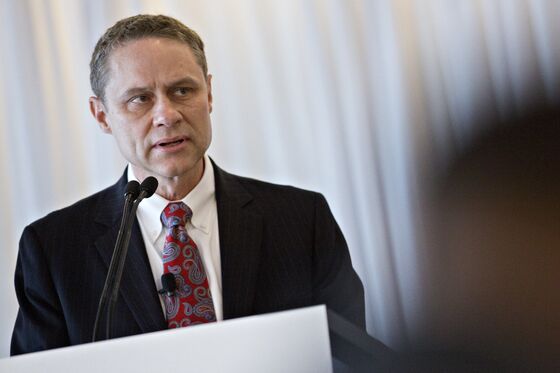 Bush, 57, will step down from the chief executive officer role as of Jan. 1 and remain chairman through July 2019, the Falls Church, Virginia-based company said late Thursday in a statement.
The move is a "major surprise" for a leader that presided over significant stock gains in his eight-and-a-half-year tenure, Cowen analyst Cai von Rumohr said in a note. The decision isn't believed to be related to personal reasons such as illness, and Bush merely wants to avoid overstaying his welcome, von Rumohr said. Still, "investors are apt to be disappointed."
Northrop fell 1.6 percent to $317.03 at 10:45 a.m. in New York, the biggest drop on a Standard & Poor's index of aerospace and defense companies. The shares rose 5 percent this year through Thursday and have more than sextupled since Bush became CEO in 2010 -- the third-biggest advance on the 13-member index.
Warden will take the reins at a time of considerable transformation for one of the top U.S. defense contractors. Northrop, which recently closed the blockbuster $7.8 billion acquisition of Orbital ATK Inc., is ramping up work on the next U.S. stealth bomber after winning a pivotal 2015 contract that revitalized its prospects and ended speculation of a possible breakup.
"The board appreciates the tremendous progress the company has made under Wes's leadership and we look forward to building on this progress with Kathy as our next CEO," Don Felsinger, Northrop's lead independent director, said in the statement.
Warden, 47, will join the board immediately, the company said. The executive, who started with Northrop in 2008, ran the Mission Systems business before being promoted to president. She previously held positions with General Electric Co. and Veridian Corp.
If investors are concerned by Bush's departure from Northrop, the "smooth performance of the Mission Systems segment under Ms. Warden's leadership should provide some reassurance," Sheila Kahyaoglu, an analyst with Jefferies, said in a note.