Michelin to Acquire Farm-Tire Maker Camso for $1.45 Billion
(Bloomberg) -- French tire-maker Michelin is bolstering its specialty business with a $1.45 billion deal to buy Camso, a Canadian producer of rubber tracks for farm equipment and snowmobiles.
The two companies' off-road operations will be combined and run from Camso's headquarters in Magog, Quebec, Michelin said in a statement Thursday. Closely held Camso, which also makes tires for material-handling equipment, has sales of $1 billion.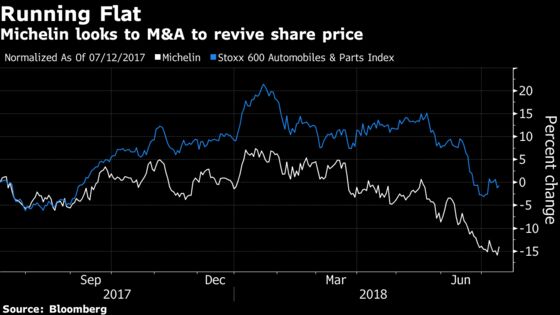 "The specialty-tire market is by far the fastest-growing," Michelin Chief Financial Officer Marc Henry told reporters by phone, putting growth at around 4 percent a year. "This merger is a perfect fit for Michelin and Camso."
Michelin shares rose as much as 2.5 percent after the news.
The deal is Michelin's second acquisition this year worth more than $1 billion and aimed at diversifying the Clermont Ferrand, France-based company away from car and truck tires. The French manufacturer's agreement in March to buy U.K.-based conveyor-belt maker Fenner Plc for about 1.2 billion pounds ($1.6 billion) will strengthen its presence in mining equipment.
Camso ranks among the top three companies in making tracks and tires for construction equipment, Michelin said. The company, which has a manufacturing site in Sri Lanka, has grown at an average of 7 percent a year since 2012.
The deal values Camso at $1.7 billion including net debt, according to the statement, which equals 8.3 times earnings before interest, taxes, depreciation and amortization, after synergies. Michelin forecasts the deal will generate $55 million of cost savings and increased sales by 2021.
The French company agreed to keep Camso's 300-strong headquarters in Quebec, and doesn't see major job cuts in France as a result, Henry said. The accord would likely close by the end of the year, probably by end-November, he said.
Shareholders in Camso include Caisse des Depots et Placements du Quebec, Canada's second-largest pension fund manager; Quebec's Solidarity Fund QFL, which is backed by a labor union; Mouvement Desjardins, Canada's biggest credit union; and three individuals.
Michelin also said Thursday it has doubled its estimate of synergies from the Fenner acquisition to 60 million pounds.
Michelin shares have fallen 13 percent this year, valuing the company at 18.6 billion euros ($21.7 billion).