Merkel Rejects Trump's Link Between EU Trade, Defense Spending
(Bloomberg) -- German Chancellor Angela Merkel said European defense spending and trade with the U.S. are separate issues, rejecting a link made by President Donald Trump.
Merkel's comments came at the end of a North Atlantic Treaty Organization summit marked by the U.S. president's renewed demands for European NATO allies, and Germany in particular, to pay a greater share of the alliance's defense spending. At a news conference in Brussels on Thursday, Trump again appeared to link European willingness to be forthcoming on defense spending to U.S. trade conflicts with the European Union.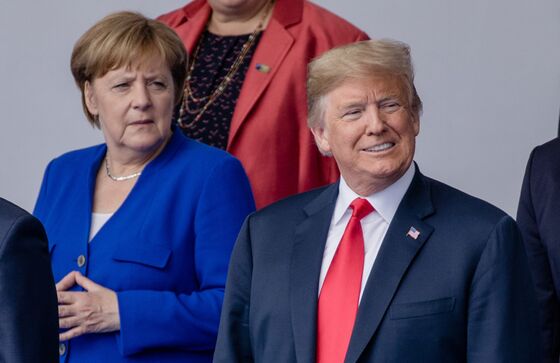 Merkel disagreed, telling reporters "there has to be a clear distinction" between the topics of security and trade.
The EU has made it clear that it's ready to hold trade discussions with the U.S., as evident from talks that took place before the Trump administration imposed tariffs on imported steel and aluminum, Merkel said. She renewed an offer for talks on a broad EU-U.S. trade deal.
"We can talk about bilateral trade agreements anytime," she said. "We have done that with many other countries. But in my view we have to keep the issues of trade and security apart."
The EU levied tariffs on 2.8 billion euros ($3.3 billion) of American goods in June in retaliation for American duties on steel and aluminum imports. Trump has also proposed a levy of as much as 20 percent on EU cars and car parts in an effort to lower the U.S. trade deficit.