JPMorgan, Wells Fargo May Go Back to Basics With Loans in Focus
(Bloomberg) -- Bank shares have been underperforming the broader market since May, when 10-year Treasury yields peaked, capping expectations for a boom in bank profits driven by rate hikes. With tax cuts in the rear-view mirror and de-regulatory efforts slowing, bank investors may put a fresh emphasis on fundamentals, particularly lending, when JPMorgan Chase & Co., Citigroup Inc. and Wells Fargo & Co. kick off earnings reports Friday morning.
The quarter's loan growth and the outlook for more — or less — "may be the most interesting variable across banks," Bloomberg Intelligence analyst Alison Williams says. She cites "broadly declining optimism," though commercial and industrial (C&I) lending is showing "a better trend."
The Bank of the Ozarks disappointed investors on Thursday, with a warning that competitors in commercial real estate are getting more aggressive with credit structures and pricing, along with pressure on its net interest margin. Shares in the lender sank more than 9%, leading the KBW index of regional banks to its steepest intraday decline since May 29. The broader KBW Bank Index was little changed at 1:30 p.m. in New York.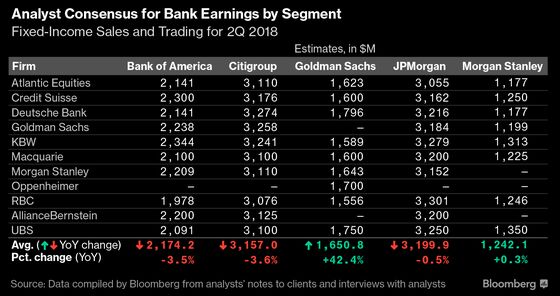 When JPMorgan's report hits, around 7 a.m., Credit Suisse analyst Susan Roth Katzke will be most focused on "the macro outlook," including GDP growth and its implications for interest rates, loan demand and credit quality. She'll also be watching the capital markets environment, including whether June's momentum can continue, and gauging competition in loan and deposit pricing. Last quarter, JPMorgan said it expected average core loan growth of 6 percent to 7 percent, excluding CIB loans, in 2018.
An in-line quarter might be good enough to boost lagging bank shares across the board, Goldman Sachs analyst Richard Ramsden wrote earlier this week. He said loan growth may stay unchanged from first-quarter levels at 3 percent, despite optimism about post-tax overhaul and a C&I loan rebound, and noted bank management teams now expect tax tailwinds won't happen until the second half of this year.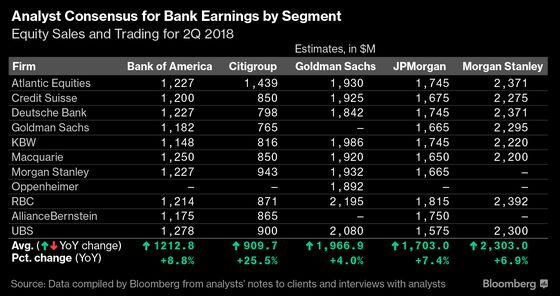 Mike Mayo, an analyst at Wells Fargo, will be looking for the "dessert" bank investors had hoped for earlier this year. Loan growth during the second quarter "may appear only modest but period-end loans should show a strong pick-up, giving new signs of green shoots," Mayo writes in a note.
"Capital markets could still benefit from added volatility," Mayo added, while the industry seems to be on the cusp of record capital return, and "mergers should be good too." He also expects a 25-year "structural break-out for the benefits of scale that should take the industry to record efficiency."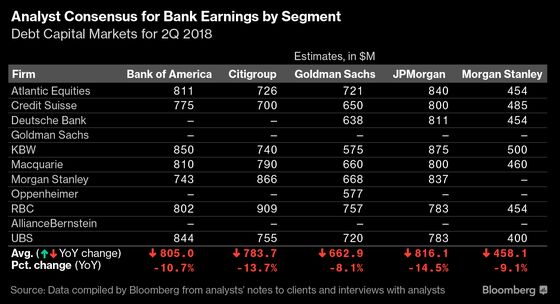 KBW has "a sunny outlook" on banks, with fundamentals supporting outperformance once geopolitical risks dissipate, analyst Brian Kleinhanzl writes in a note. He sees a second-quarter pick-up in C&I loan growth, even as investor expectations have been coming down. That could set up stocks for gains.
Not so fast, says Raymond James's David Long, who wrote that loan growth and net interest margin outlooks for the second half of the year are at risk, even as the latest round of results will likely be solid, buoyed by rate hikes, seasonal shifts in mortgage banking and compensation expenses, and relatively benign credit trends.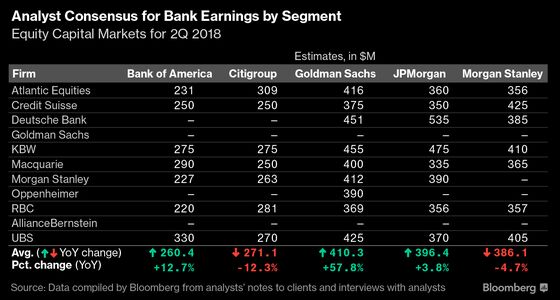 Ahead of the second-quarter earnings season, banks including Bank of America Corp. were "pretty aggressive in reining in" net interest income growth prospects, Portales Partners' Charles Peabody says in an email to Bloomberg News. That's "partly because loan growth has been more sluggish than expected."
Peabody expects some pickup in the year's second half, though on July 9 he suggested investors "sell the next rally," as banks have probably passed peak EPS and profitability, and "the time to have sold these stocks was during the run-up to the tax-cut mania in late 2017/early 2018."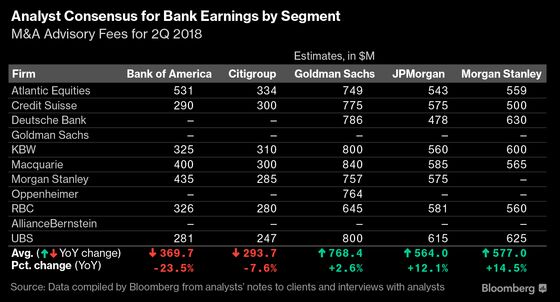 Wells Fargo has a unique set of challenges among big banks, as it struggles inside the Federal Reserve's penalty box. In addition to keeping an eye on the bank's core loan and deposit growth, Credit Suisse's Susan Roth Katzke will be watching how the San Francisco-based bank is managing its balance sheet given the Fed's asset cap limitation. She'll also be looking for updates about investigations, litigation and broader regulatory reform dynamics, including next year's Fed stress testing.
Bottom line, Credit Suisse expects Wells Fargo to report lower revenue than last quarter and the year-ago period, amid business unit exits, portfolio sales and portfolio de-risking. Additionally, "challenging" fee revenue comparisons, including service charges and equity investments, may be another barrier.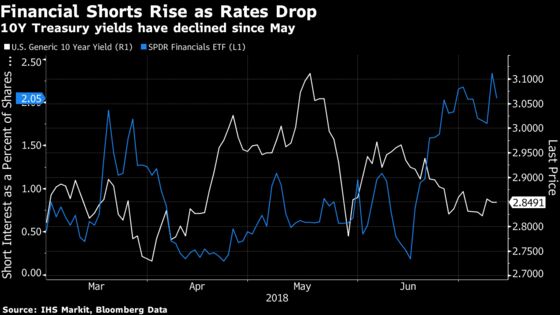 Earnings release expected Friday 6:45am New York time
2Q adj. EPS est. $2.22 (range $2.16 to $2.30)
2Q adj. rev. est. $27.34b (range $26.76b to $27.84b)
2Q total trading rev. est. $4.89b
I-banking rev. est. $1.76b
2Q net yield on interest-earning assets est. 2.46%
2Q provision for credit losses est. $1.48b
Call 8:30am, 866-541-2724
See Bloomberg Intelligence's 2Q preview from July 11: JPMorgan Customer Insight Sought With Solid Results
Earnings release expected Friday at 8am
2Q adj. EPS est. $1.56 (range $1.49 to $1.60)
2Q adj. rev. est. $18.54b (range $18.20b to $18.88b)
2Q total trading rev. est. $4.05b

Equities $910m
FICC $3.16b

I-banking rev. est. $1.35b
Call 11:30am, 866-516-9582 pw 83785275
BI 2Q preview from July 11: Citi's Global Views of Interest, U.S. Cards a Focus
Earnings release expected Friday at 8am
2Q EPS est. $1.12 (range $1.05 to $1.15)
2Q net interest margin est. 2.86%
2Q net charge-offs est. $718.1m
2Q provision for credit losses est. $692.9m
Call 10am, 866-872-5161
BI 2Q preview from July 11: Wells Fargo Fundamentals Eyed Within Fed Constraints
Earnings release expected Monday at 6:45am
2Q adj. EPS est. 58c (range 55c to 61c)
2Q rev. net of interest expense est. $22.11b (range $21.38b to $22.77b)
2Q total trading rev. est. $3.39b

Equities $1.21b
FICC $2.17b

I-banking rev. est. $1.38b
2Q net interest yield est. 2.39%
2Q provision for credit losses est. $988.5m
Call 8:30am, 877-200-4456 pw 79795
BI 2Q preview from earlier: C&I Should Lift BofA's Loans Despite Economic Worry
Earnings release expected Tuesday at 7:30am
2Q adj. EPS est. $4.64 (range $4.23 to $4.95)
2Q net revenue est. $8.73b (range $8.11b to $9.32b)
2Q total trading revenue est. $3.62b

Equities $1.97b
FICC $1.65b

I-banking rev. est. $1.84b
Call 9:30am, 888-281-7154
BI 2Q preview from earlier: Goldman's Revenue Growth May Lead as Macros Hold Key
Earnings release expected Wednesday at 7am
2Q EPS est. $1.11 (range $1.05 to $1.16)
2Q net rev. est. $10.08b (range $9.85b to $10.48b)
2Q total trading rev. est. $3.53b

Equities $2.30b
FICC $1.24b

I-banking rev. est. $1.42b
Call 8:30am, 877-895-9527 pw 9998348
BI 2Q preview from earlier: Morgan Stanley Should Get Equities Help, CCAR Query