Gogo Considers Splitting Business as Part of Turnaround Plan
(Bloomberg) -- Gogo Inc., the in-flight Wi-Fi service weighed down by balky equipment and heavy debt, is considering options that include splitting itself into separate companies serving commercial and business aircraft. The stock jumped in after-hours trading.
The transactions under study include suggestions from "various strategic and financial parties," and proposals from management and its advisers, Chicago-based Gogo said Thursday in a statement. No decisions have been reached.
The stock rallied in extended trading on the news, which came as the company released a revamped business plan designed to improve its revenue, operations and balance sheet. The shares climbed 11 percent to $5.10 at 5:33 p.m. in New York, and rose as high as $5.35. Gogo scheduled a Friday conference call to discuss the plan at 9 a.m. Eastern time.
Gogo, which posted a $172 million loss last year, supplies Wi-Fi on thousands of commercial and business aircraft and has been offering "2Ku" service that it says is 10 times faster. But the campaign has been plagued by flaws in manufacturing and software, which led to costly repairs, and airlines held back on promoting the service. That spurred credit raters to question Gogo's ability to carry its debt load of about $1 billion.
The moves "demonstrate our commitment to taking aggressive action to position Gogo for sustainable value creation," Oakleigh Thorne, Gogo's chief executive officer and largest shareholder with an almost 30 percent stake, said in the statement.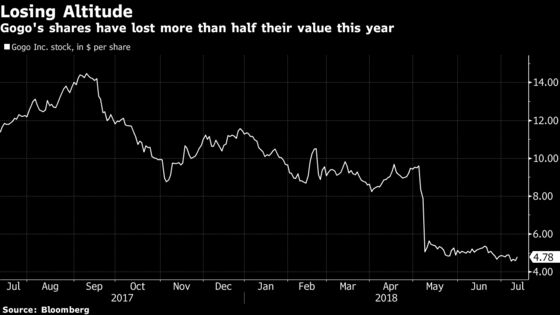 Gogo said it's aiming for break-even free cash flow for full-year 2020 and Ebitda growth each year that will top $200 million in 2022. The goals include cutting total cash burn in 2019 by over $100 million from expected 2018 levels and by a further $100 million in 2020, according to the statement. For this year, the company offered adjusted Ebitda guidance of $35 million to $45 million.
On the debt front, Gogo is reviewing "multiple options to address our outstanding convertible debt before it becomes current in March," according to the statement. Gogo's debt was downgraded to Caa1 by Moody's Investors Service earlier this year.
The business review began earlier this year after Gogo replaced its previous CEO and withdrew guidance on some financial measures, including adjusted Ebitda. The stock plunged more than 50 percent this year before the announcement, and falling prices for its 2020 convertible notes have driven their yield to 12 percent.
Gogo's business aviation unit, which provides Wi-Fi for smaller jets and aircraft, has been a source of growth to offset its weaker commercial aviation division. Profit in that business grew 24 percent from a year earlier in the first quarter as demand for Wi-Fi on private planes increased, and there's less need to spend to upgrade technology. Commercial aviation profit in North America declined 85 percent over the same period, primarily due to increased costs on its "2Ku" roll-out.
Gogo laid off 55 of its roughly 1,000 employees Thursday. In an interview at his office in downtown Chicago, Thorne said future cuts into 2020 will come mainly through attrition, and the loss of most technology contractors who are helping the company address some of its tech backlog.
"We're managing the company as if we're going to be running it," he said, noting that the stock's sharp decline would likely discourage any sale. "We're not managing this for a sale. We're managing this to build a good company."