Forget Drug Pricing, Pharma's Bigger Burden Is a Dearth of M&A
(Bloomberg) -- Pharma investors are losing patience.
And that's not only because of the renewed drug-pricing rhetoric in Washington or the upcoming midterm elections. The more pressing issue facing the sector is the lack of mergers and acquisitions, and management teams not being aggressive enough in creating value, according to Goldman Sachs.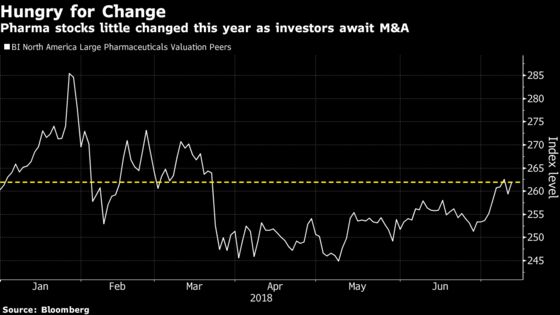 Despite a strong start to the year in deals, rising valuations for small- and mid-cap biotechs have deterred drugmakers from full takeovers, leading them to opt for partnerships instead. Pfizer's diminished interest in a mega deal also took away a potential "detonator" for other mergers and acquisitions, analysts led by Jami Rubin wrote.
As Johnson & Johnson kicks off second-quarter earnings for the sector next Tuesday, investors will continue to be laser-focused on M&A commentary. Goldman estimates U.S. large-cap pharma companies have $440 billion in dry powder to deploy toward deals or return to shareholders. Unless deals activity starts picking up, investor interest in large pharma could wane, analysts caution.