Ex-Drug CEO Seeking Senate Seat Attacked by Old Industry Foe
(Bloomberg) -- A patient-advocacy group opposed to high drug prices says it will spend $1.5 million on ads attacking New Jersey GOP Senate candidate Bob Hugin, the former chief executive of drugmaker Celgene Corp.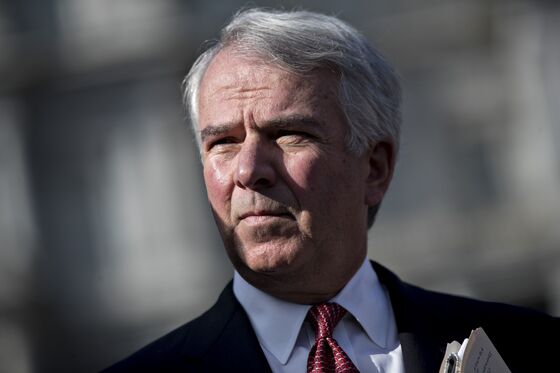 The advocacy group, Patients for Affordable Drugs Action, says the anti-Hugin ads that will run in the state are the first of millions of dollars worth of political advertising it will use to target candidates it says are responsible for high drug prices.
In 2007, when Hugin was chief operating officer, a 10-milligram dose of the company's blockbuster cancer pill Revlimid cost $247.28, according to data from Connecture Inc. Over the next decade, Celgene raised its price more than a dozen times as Hugin became chief executive officer and eventually executive chairman. When he retired in January, the same Revlimid pill cost $662.36.
"We think it is important for the voters of New Jersey to know that as a drug company CEO, he doubled the price of a life-saving cancer drug, forcing patients into debt, and he walked away with $100 million," Ben Wakana, executive director of Patients For Affordable Drugs Action, said in a phone interview.
The ad features a cancer patient who compares the low cost for Celgene to manufacture the pill to its high list price. "I'll always know him as the guy who made a killing," says the patient, "off cancer patients like me." Hugin is running against incumbent Senator Robert Menendez, a Democrat who faced corruption allegations. Prosecutors eventually dropped the case.
Hugin's campaign said that patients were the candidate's first concern and that Menendez has taken donations from the pharmaceutical industry.
"Under Bob's leadership, Celgene discovered revolutionary treatments that extended the lives of hundreds of thousands of patients and they provided hundreds of millions of dollars every year to help patients afford these treatments," Hugin spokeswoman Megan Piwowar said in a statement.
Celgene said it doesn't believe that patients should be denied drugs they need because they can't afford them and gives away millions of dollars worth of its medications every year.
"We price our medicines based on the value they provide to patients and to the health-care system and the need to fund our extensive research to develop new treatments, which at 45.5 percent of sales is among the highest of any large company in any industry anywhere in the world," spokesman Greg Geissman said in an emailed statement.
High drug costs and frequent price hikes have drawn the ire of politicians on both sides of the aisle, including President Donald Trump, who this week succeeded in convincing Pfizer Inc. to postpone planned increases. Despite the rhetoric, however, at least ten other companies including Hugin's former firm have increased the prices of 20 brand-name drugs in recent days.
Patients for Affordable Drugs Action is a political action committee with ties to Patients for Affordable Drugs, an advocacy group that has criticized brand-name drugmakers for high prices. The new PAC is funded Action Now, an advocacy group founded by Laura and John Arnold. John Arnold is a former Enron executive and hedge fund investor who has since taken up varied causes including drug pricing, criminal justice reform and public finance issues.
The group said it is bipartisan. It plans to support the re-election of Representative David McKinley, a West Virginia Republican the advocacy group said has worked to lower drug prices. Wakana said that the group would target politicians, including Democrats, if they believe they are working in the interests of drugmakers.
"If you are in pockets of drug companies and doing their bidding and not working for patients, we are coming after you," he said.
In June, Celgene said it would only raise the prices of its drugs once a year and would limit increase to the annual percentage growth of medical spending in the U.S.
The company raised the price of Revlimid this month by five percent, and said it plans no further increases.