Brexit Bulletin: White Paper Day
(Bloomberg) -- Today in Brexit: The U.K. is set to finally publish detailed proposals for its future trading relationship with the EU.​​​​​​ 
The moment EU leaders and U.K. businesses have been clamoring for is here: Prime Minister Theresa May will finally spell out a detailed vision for the U.K.'s post-Brexit economic partnership with the EU.
On Friday, there was a taster: a three-page precis of the plan the premier's ministers were supposedly unified in supporting. Two cabinet resignations and six days later, new Brexit Secretary Dominic Raab – who replaced David Davis on Monday – will serve up the main course in the form of a White Paper running to more than 100 pages that's being billed by his department as the government's "most significant Brexit publication since the EU referendum."
The centerpiece of the eagerly-anticipated plan is for Britain to share a common rulebook on goods with the EU, a proposal that Brexit purists in May's party hate. While nominally Parliament will have to approve new rules, they say in effect Britain will be a "vassal state," forced to adopt regulations written in Europe – and unable to make trade deals.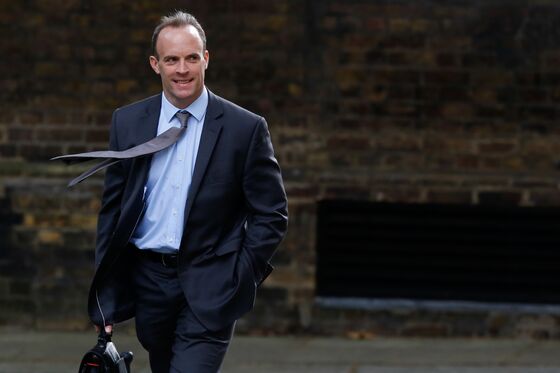 The premier sees it as the best way to avert a hard border with the EU, and hopes to win her detractors over with the promise of striking trade deals in services around the world. The attractiveness of the prospect lies in the fact that services make up four-fifths of the economy. But the snag is such deals are virtually unheard of in world trade.
The proposal "would give the U.K. the flexibility we need to strike new trade deals around the world, in particular breaking new ground for agreements in services," Raab – four days into the job – will say in the foreword to the White Paper.
David Lidington, May's de-facto deputy, on Wednesday explained the rationale for keeping Britain tied to EU rules on goods but not for services. It boils down to the risk of the EU passing "unwelcome measures" in services sectors that the U.K. would then have to replicate.
The Brexit department provided scant new detail overnight, and politicians and companies will be poised to search through the White Paper – when it comes, at an as yet undetermined time – for so far unanswered questions on:
The plan is for trading services with the EU – particularly financial services
Whether EU citizens will be given priority in post-Brexit immigration
What role the European Court of Justice will have
Proposed involvement in a range of EU collaborations, including the Galileo satellite program, the EU Emissions Trading System and regulators for aviation, chemicals and pharmaceuticals
Plans for the Irish border
May's EU counterparts have been frustrated at the lack of specificity she's provided until now, and businesses have been clamoring for the government to spell out its position to provide the certainty they need to invest. May aims to cater to both sets of demands with Thursday's document.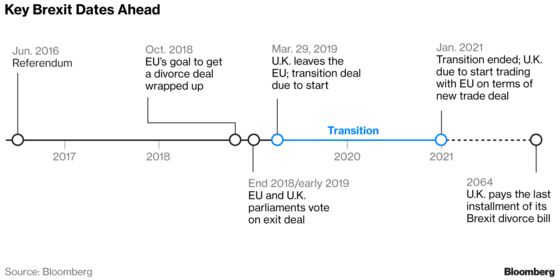 With less than nine months to go until Britain's scheduled departure, time is short to negotiate a deal: but now at least, the premier's EU counterparts will have more than a collection of speeches to go on.
The new proposal was crystallized at an all-day cabinet meeting convened by May on Friday at her country house, Chequers, after which she declared she'd finally unified her top team behind a vision for Brexit. While the resignations of Davis and Foreign Secretary Boris Johnson took the shine off that, the premier on Monday defended the plan resolutely in the face of attacks from Brexit supporters in her own Conservative Party.
The European Research Group of pro-Brexit Tory lawmakers, led by Jacob Rees-Mogg, plans to use a vote in Parliament try to force May to publish an alternative strategy drawn up by Davis before he quit. A person familiar with the plan said they believed it would show that other options are plausible.
It now falls to Raab to defend the Chequers vision. A man who campaigned to leave the EU himself in the 2016 referendum, Raab aims to persuade fellow Brexit supporters of the merits of what is a classic May fudge. The message is that Britain will exit the single market and customs union as promised, and regain control of its money, borders and laws.
"It is a vision that respects the result of the referendum, and delivers a principled and practical Brexit," he'll say.
Brexit Exiles | France is gearing up to lure investors and expats as financial firms leave London after Brexit. French Prime Minister Edouard Philippe has detailed new measures including a school for expat children, the possibility of including financial goodwill in the amortization tax regime, and the capping of the tax at 30 percent on the so-called carried interest of investment funds relocating to France. Rules on the opening or expansion of clearing businesses will also be eased this year, according to the prime minister's office.
EU Control | Another woe for the U.K. financial services sector: the system under which British banks access the EU after Brexit could become more complicated. European Parliament lawmakers are demanding a right to object to any executive decision granting regulatory "equivalence," and to have the power over such decisions spread more evenly between different institutions in Brussels.
Foxed In | After the resignations of Boris Johnson and David Davis, what of the third of the cabinet's original three Brexiteers promoted to key posts by Theresa May after the referendum? International Trade Secretary Liam Fox told a parliamentary committee on Wednesday that he thinks the plan devised by May will allow the country to have its own independent trade policy, despite the aim to replicate EU rules for goods.
Deaf Ears | Brussels isn't paying attention to the Bank of England's warning that Brexit threatens 96 trillion pounds ($127 trillion) of derivatives contracts. Valdis Dombrovskis, the European Union's head of financial-services policy, dismissed an alert from BOE Governor Mark Carney, who called for U.K. and EU authorities to step in, Dombrovskis said the onus is on firms to Brexit-proof existing contracts.
Thai Ties | Thailand sees the chance for Brexit to boost bilateral trade with the U.K., according to Pimchanok Vonkorpon, the director general of the Commerce Ministry's trade policy and strategy office.
Trump Time | As if it weren't enough to be publishing the most important policy document since the Brexit referendum on Thursday, May will also host U.S. President Donald Trump – who she's relying on for a key post-Brexit trade deal. But he may pour cold water on her Brexit plans by advocating a hard Brexit, the Telegraph cites people close to him as saying.
Downing Street Cabal | Maria Caulfield, who quit as a Conservative vice-chairman, writes in the Telegraph that a "contemptuous cabal" in May's office has devised a plan on Brexit that's "catastrophically bad."
On The Markets | Near-term direction for the gilts markets hinges on whether May stays or goes, according to Andy Chaytor, head of European rates strategy at Nomura International Plc. Bonds will fall if she remains, because that would mean she will continue pushing for a more business-friendly Brexit, reducing demand for safer securities such as government debt, he said.
World Cup Woes | England soccer fans will be glad that after Brexit the prime minister will have fewer reasons to visit Brussels. When she was in the Belgian capital for last month's European Council meeting, England lost its final World Cup group stage match against Belgium. While both teams progressed to the knockout stages, England joined Belgium last night in falling to a semi-final defeat, losing 2-1 against the EU's newest member state, Croatia. And where was May? In Brussels for a NATO summit.