BMW Set to Be First Foreign Automaker to Control China JV
(Bloomberg) -- BMW AG is poised to become the first foreign car company to take majority control of its Chinese venture as the country opens up one of its biggest industries to foreign ownership despite a worsening trade war with the U.S.
The second-biggest luxury-car maker plans to unveil the new ownership structure of its venture with Brilliance China Automotive Holdings Ltd. soon, according to a person familiar with the plan, who asked not to be identified because the accord remains confidential. BMW is the biggest exporter of vehicles from the U.S. to China, putting it among major companies most exposed to a trade war.
BMW currently holds a 50 percent stake in the partnership. Beijing in April said it'll remove the foreign ownership cap with any changes coming into effect for passenger car ventures from 2022. Shares of Brilliance and BAIC Motor Corp., a partner of Daimler AG, both declined on concerns foreign carmakers gaining more control will mean they'll miss out future profits. China is the biggest market for many brands, including Volkswagen, Audi, BMW and Daimler's Mercedes-Benz.
BMW's move highlights some of the paradoxes facing global companies as they look at the Chinese market. On the one hand, Beijing is carrying through on a pledge to open up its economy to more foreign ownership, a long-standing plea of foreign firms. On the other, companies like BMW, mobile-chipmaker Qualcomm Inc. and U.S. soybean farmers are trying to negotiate an ever-widening range of tariffs as trade relations worsen between the two economic superpowers. For the carmakers, it's creating pressure to shift toward more localized production.
BMW rose as much as 2.4 percent, and was up 0.8 percent to 79.51 euros at 2:13 p.m. in local trading, valuing the company at 51.7 billion euros ($60.3 billion).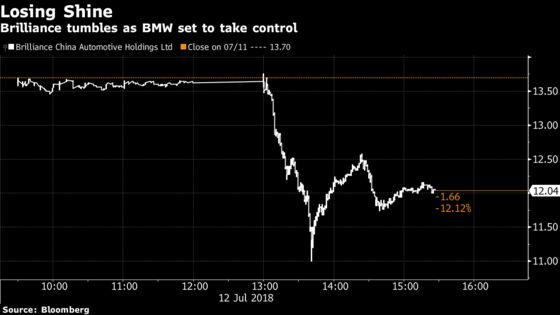 China and Germany are forging closer ties with each other as trade relations worsen with the U.S. BMW Chief Executive Officer Harald Krueger was in Berlin at the start of the week during a summit between Chinese Prime Minister Li Keqiang and German Chancellor Angela Merkel. Among discussions were opportunities to open up China more to foreign investment. As part of corporate deals signed at the meeting, chemicals company BASF SE agreed to invest as much as $10 billion in a new factory in China that it would wholly own, also a first for that industry.
Read more: BMW open to higher China stakes along with new rules
Volkswagen AG, the biggest foreign automaker in China, also held talks with China's premier in Berlin, resulting in an initial agreement with partner FAW Group to advance electric vehicles.
BMW declined to comment on the state of its discussions. Brilliance, which now owns 40.5 percent of the venture, didn't immediately return a call and email seeking comment. The German company is set to boost its stake in the venture to at least 75 percent, Manager Magazin reported earlier. Daimler said it's very happy with its partnerships in China and is following the regulatory developments closely.
Owning a larger slice of BMW Brilliance Automotive would come at an opportune time for BMW. The company is forecast to import into China some 70,000 sport utility vehicles from its factory in the U.S., where it makes SUVs for the global market. Those vehicles since July 6 attract an additional import duty of 25 percent, after China retaliated against U.S. trade restrictions. Daimler, which also exports SUVs from the U.S. to China, already issued a profit warning a few weeks ago, citing the risk of falling demand from Chinese consumers for U.S.-made SUVs.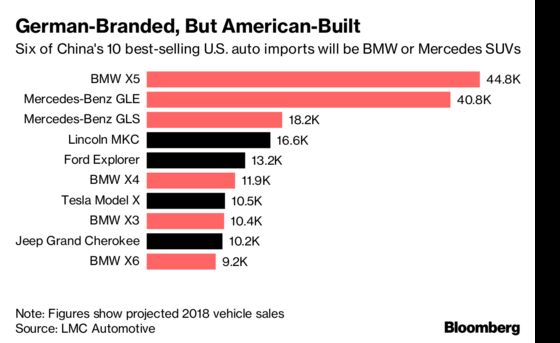 A move by BMW would follow China's plan to ease foreign-ownership restrictions in the country, with the possibility that foreign automakers could eventually buy out their local partners. China said in April it is scrapping the current 50 percent ownership cap for electric-car ventures as soon as this year. For commercial vehicles, it'll be eliminated in 2020 and the one for passenger vehicles will end in 2022, China said at the time.
Shares of Brilliance fell as much as 20 percent for its biggest intraday drop since October 2008. BAIC Motor Corp., a partner of Daimler, declined as much as 12 percent. Companies including Volkswagen, General Motors Co., Ford Motor Co. and Toyota Motor Corp. also work with local partners in China under rules that have existed for more than two decades.
On Tuesday, the Chinese Foreign Ministry said in a statement that China and Germany "for the first time reached the agreement on increasing the share of German automobile companies in the jointly invested projects in China." BMW would be first example owning a stake larger than 50 percent, it said.
The company this week signed an agreement with Brilliance to expand the joint venture, boosting production and plans to export the upcoming electric iX3 sport utility vehicle from China. The pact was one of dozens sealed by German and Chinese companies during Premier Li's visit to Germany.
The remaining 9.5 percent of BMW and Brilliance's venture is held by Shenyang City.