U.S. Congress Backs Alliance in Message to Trump: NATO Update
(Bloomberg) -- Donald Trump is on the offensive as leaders gathered at a two-day North Atlantic Treaty Organization summit. The U.S. president has questioned the value of the generations-old alliance and has linked spending for defense with trade. His main target: Germany.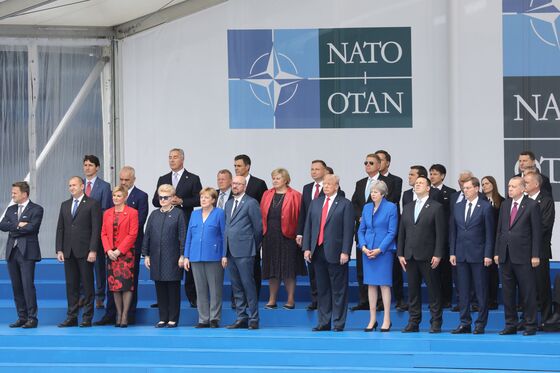 We are following developments here in real time. Time stamps are for Brussels.
In Washington, Senates Votes in Support of NATO
Even as Trump was heading to Europe, the U.S. Senate voted 97-2 on Tuesday for a non-binding resolution supporting NATO. The U.S. House followed up Wednesday with its own version. House Speaker Paul Ryan called NATO "indispensable," but he added that Trump is correct in prodding other countries to pay more for their defense.
Another Whack at Germany in Tweet (6:53 p.m.)
It follows a familiar pattern where Trump plays nice with leaders in person only to angrily tweet after the meeting. It happened at the Group of Seven summit and history is repeating itself in NATO.
Here it is: "What good is NATO if Germany is paying Russia billions of dollars for gas and energy? Why are their only 5 out of 29 countries that have met their commitment? The U.S. is paying for Europe's protection, then loses billions on Trade. Must pay 2% of GDP IMMEDIATELY, not by 2025."
The target Trump states is incorrect. The goal was set in 2014 for countries to move toward 2 percent within a decade -- so around 2024.
Trump met with Merkel earlier and said they had a "very, very good relationship."
Trump asked NATO to formally raise its target (5:16 p.m.)
"President Trump, who spoke, raised the question not just to reach 2%, today, but set a new target - 4%. He just left after he announced that," Bulgarian president Rumen Radev told reporters, according to BNR public radio.
"NATO is not a bourse a which one can buy security. But yes, on the other hand, President Trump is right, as each country should build its effective capabilities, and the unwillingness with which Bulgaria spends money on defense is obvious"
He spoke to Bulgarian reporters in Brussels.
Captive to no one, top German diplomat says (4:48 p.m.)
German Foreign Minister Heiko Maas had a robust response to Trump's Trump's Germany-is-captive-to-Russia comment.
"We're not captive, neither to Russia nor to the USA. We're one of the guarantors of the free world, and that will remain the case," he told reporters in Brussels.
And on Trump's demand to increase spending now, he was equally clear: "The budget is determined by the German Bundestag… the decisions that we have to make, how much money will be spent, is a decision that we make autonomously. That's made by the German Bundestag."
More signs from Washington Trump is out of step (4:42 p.m.)
Even as Trump was heading to Europe, the U.S. Senate voted 97-2 on Tuesday for a non-binding resolution supporting NATO. House Speaker Paul Ryan said Wednesday that his chamber will take up a similar resolution backing the alliance that he called "indispensable." But Ryan added that Trump is correct in prodding other countries to pay more for their defense.
Analysis of Merkel's pointed response to Trump (4:31 p.m.)
In a pointed response to Trump's claims about Russia, Merkel made reference to her own upbringing in formerly communist East Germany – and without explicitly referring to the gas pipeline, asserted Germany's prerogative of making its own energy policy.
"I myself have experienced Soviet control over part of Germany," Merkel told reporters as she arrived at the meeting. "I'm very happy that we in the federal republic of Germany live united in freedom – and for that reason, we conduct sovereign policy and make sovereign decisions."
The comments were a marked departure for the Germany leader, who has made a practice of avoiding Trump's jibes at Germany.
Macron's turn (4:29 p.m.)
Macron was next up to meet Trump on his own. He was asked if Merkel is beholden to Russia, his response was: "No." Trump had words praise for the French president, describing it as "a great honor to be with a friend of mine" and that Macron is "changing a lot of things around."
On the menu for gala dinner (4:24 p.m.)
At 7:15 p.m sharp, local time, in Brussels, NATO leaders will enjoy an "artistic, eye-catching moment," according to their official schedule.
Presumably, this is not a reference to Trump exchanging barbs with Merkel, but a cultural event preceding their official dinner. 2-Michelin-starred chef Sang Hoon Degeimbre will then have the difficult task of indulging them enough with the best that Belgian gastronomy has to offer, so that they forget their differences over military spending during a gala dinner at the neo-gothic cloister of the Art and History museum of Brussels.
Pompeo Upbeat on NATO summit (4:14 p.m.)
Secretary of State Mike Pompeo was positive about the summit so far.
Here is his tweet: @NATO is the most successful alliance in history. All #NATOallies have committed to extending this success through increased defense spending, deterrence and defense, and fighting terrorism. Weakness provokes; strength and cohesion protects. This remains our bedrock belief."
Back in Washington, top lawmakers respond (4:06 p.m.)
Trump's comments drew a strong rebuke from Senate Minority Leader Chuck Schumer and House Minority Leader Nancy Pelosi, who said in a joint statement the remarks served as "another profoundly disturbing signal that the president is more loyal to President Putin than to our NATO allies."
The statement from the top two congressional Democrats was a rare instance of lawmakers criticizing a U.S. president in the midst of an overseas trip, dispensing with the traditional notion that domestic politics stop at the waters' edge.
Schumer and Pelosi said that if Trump was unable to secure "ironclad assurances and concrete steps toward a full cessation of Russian attacks on our democracy" in his meeting next week with the Russian leader, their summit would amount to "a grave step backward for the future of the international order and global security."
And here is Merkel in her own words (3:56 p.m.)
Merkel picked her words carefully to describe her meeting with Trump: "I'm very pleased indeed to have this opportunity be here" for this "exchange of views." She said "we are good partners and we wish to continue to cooperate in the future."
As reporters shouted a question on whether Trump had brought up the issue of the pipeline, he responded with a "Yes," without elaborating further.
Trump Says Merkel Relations "very, very good" (3:48 p.m.)
In spite of all the rhetoric from the president going in, there was no obvious sign of tension as reporters were allowed in for a peek at the Trump-Merkel meeting.
Trump said: "we have a very very good relationship" and "we have a tremendous relationship with Germany." All the same, Trump had warm words for his allies at the Group of Seven meeting only to leave in a fury, tweeting angrily at the host.
About that breakfast (3:24 p.m.)
With leaders behind closed doors, it's worth reflecting on how the tone of this meeting was set very early on with Trump's breakfast with Stoltenberg -- who was at pains to be conciliatory but was met with a barage of criticism from Trump, directly almost exclusively at Germany, which he accused of being "a captive of Russia."
Check it out. Right now Trump and Merkel are having their scheduled chat.
Trump still tweeting behind closed doors (2:43 p.m.)
While the president was inside the room, tweets were sent from his official account: "I am in Brussels, but always thinking about our farmers. Soy beans fell 50% from 2012 to my election. Farmers have done poorly for 15 years. Other countries' trade barriers and tariffs have been destroying their businesses. I will open things up, better than ever before, but it can't go too quickly. I am fighting for a level playing field for our farmers, and will win!"
Ahead of England-Croatia match, Trump get shirt (2:37 p.m.)
Croatian President Kolinda Grabar Kitarovic tweeted a picture of her presenting Trump with a soccer shirt with his name on the back. She also gave one to Theresa May, with a number 10 on the back. Croatia will play England in the semi-final of the World Cup today.
Click here to see the picture.
Trump "prepping" and White House tweets photo (2:30 p.m.)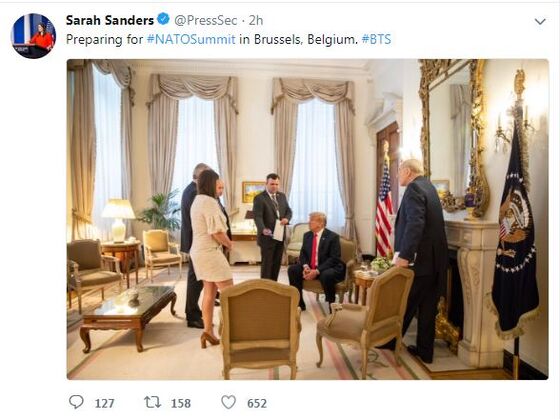 President Donald Trump's morning included a significant chunk of downtime, which White House spokesman Hogan Gidley said was spent preparing for today's NATO meetings. Press Secretary Sarah Sanders tweeted a picture of the U.S. president of one of those sessions, in which White House social media aide Dan Scavino appears to be showing Trump something on a cell phone. Sanders, chief of staff John Kelly, and senior adviser Stephen Miller are also present at the briefing session.
Leaders head back in after a fly over display (2:12 p.m.)
Luxembourg Prime Minister Xavier Bettel got quite a bit of face time with Trump, walking next to him on the way back into the newly-refurbished building. Last year, when Trump was giving a speech, he was spotted whispering with fellow French-speaking leaders appearing to make light of the president's words.
Merkel's response to Trump (2 p.m.)

The chancellor had a chance to respond to Trump, and did so diplomatically: "I would like to add on this particular occasion that I myself have experienced Soviet control over part of Germany. I'm very happy we in the federal republic of Germany live united in freedom and for that reason we can make make sovereign decisions. That's a very good thing, especially for people in the former East."
The optics tell the story (1:50 p.m.)
At the flag ceremony in front of NATO, leaders mingled with each other and made small talk. The optics were revealing: Merkel and NATO Secretary General Jens Stoltenberg leading at the front -- a Francophone bloc in the middle with Emmanuel Macron and Justin Trudeau along with the Belgian and Luxembourg prime ministers. Trump, scowling earlier, was at the rear with Turkey's Recep Tayyip Erdogan.
They all lined up for the family shot. May was trapped between Trump and Erdogan. She and Trump then exchanged some words.
Lithuania agrees with Trump on Nord Stream 2 (1:30 p.m.)
Trump kicked things off this morning by blasting Germany over its support for the Nord Stream 2 gas pipeline from Russia, opening another front in his fight with a key ally. Angela Merkel, on arrival, took the criticism in her stride.
However, Trump's succeeding in creating divisions in the postwar military alliance. Lithuania President Dalia Grybauskaite said Wednesday she agrees with him on Nord Stream 2.
"Lithuania has always viewed the Nord Steam project as geopolitical, politically motivated, having no economic justification and also binding hands for some European countries to pursue a free energy policy. We know that Russia is always using energy instruments to influence domestic policies. So I think that this criticism is justified."