Trade Storm Batters Commodities With Tariffs Threatening Growth
(Bloomberg) -- The latest round of shots fired in the trade war between the U.S. and China hit commodities markets hard, with losses spanning crude oil to crops and metals.
The Trump administration is pushing ahead with plans to impose tariffs on an additional $200 billion in Chinese goods, releasing a list of targeted products. While metals, energy and agricultural products are all included in the list, it's fear that increasing protectionism will hurt global raw-material demand that sent copper plunging to the lowest in a year and Brent crude sinking 3 percent.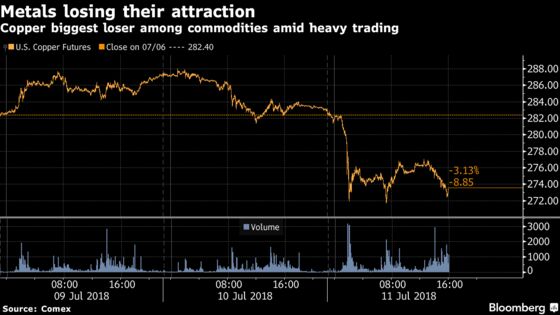 "There is growing concern among market participants that the trade war will affect the real economy and put the brakes on global economic growth," Commerzbank analysts, including Carsten Fritsch, said in their daily report. "We see the price slide as excessive given that Asian stock markets for example have suffered more minor losses in response to the latest development in the trade war. We expect to see a pronounced countermovement if the situation calms down again."
Donald Trump's attempts to re-balance global trade have already sent the commodities world into a tailspin and the disarray is set to worsen as tit-for-tat protectionism intensifies. Steel prices and aluminum premiums are shooting up in the U.S. thanks to tariffs, while Chinese duties on U.S. soybeans and other farm goods are roiling agricultural markets.
While the latest list includes some niche commodities such as rare earths that China exports in significant volumes, the country imports far more raw materials than it ships abroad. That means many of the latest tariffs proposed by the U.S. are unlikely to disrupt major trade flows.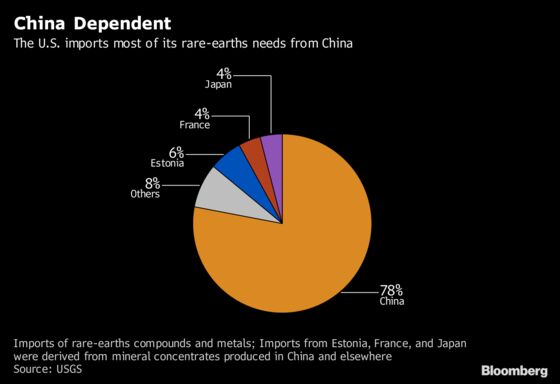 The Bloomberg Commodity Index fell 1.6 percent as of 11:13 a.m. in New York on Wednesday, heading for its lowest close since December.
Metals were among the hardest hit, with copper prices plunging as much as 4 percent in London. U.S. futures have lost almost 17 percent since peaking in early June.
Zinc, nickel, lead and tin all slid on the London Metal Exchange as did shares in miners and metals companies including BHP Billiton Ltd. and Antofagasta Plc.
The 10 percent tariffs could take effect after public consultations end on Aug. 30, according to a statement from the U.S. Trade Representative's office. The proposed list of goods includes consumer items such as clothing, television components and refrigerators as well as rare earths, metals, fruit juice and seafood among hundreds of other goods. China has yet to say how it will retaliate.
"The looming trade war is clouding the economic outlook and weighs on investor sentiment," Georgette Boele, currency and metals strategist at ABN Amro Bank NV, said by email.
Goldman Sachs Group Inc. has said the sell-off in metals is overdone, but warned it could get worse before getting better. U.S. economic data remains strong while the Chinese industrial sector appeared healthy, the bank said.
Oil prices were also caught up in Wednesday's sell off, dropping more than 2 percent in London, as investors shunned riskier assets.
Oil had been trading near a three-year high as concerns of a supply crunch due to disruptions from Libya to Venezuela and renewed U.S. sanctions on Iran overshadowed a pledge by OPEC and its allies to boost production. Though signs of shrinking U.S. stockpiles and output reductions in Norway and Gabon are adding to risks, the intensifying trade conflict is heightening concern that demand could shrink.
Agricultural commodities also dropped. Corn fell to a five-month low, U.S. soybeans slid to the lowest since 2015 and cotton sank 2 percent.
"The list will almost certainly mean retaliatory measures being raised by China," said Charles Clack, an analyst at Rabobank in London. "So markets are still very concerned about the issue. We've seen China target agricultural products so far, so there is a fair chance of them continuing down this route on fresh tariffs."
Gold was also a casualty, despite it typically being the asset where investors flee in times of market turmoil. That's largely because of an appreciation in the U.S. dollar, according to Michael McCarthy, a chief market strategist at CMC Markets in Sydney.
Other precious metals including platinum and silver are even harder hit because of their use in manufacturing.
"The more industrially exposed the precious metals are, the further they're down in trading today, but it does look like it's a currency impact as much as anything," he said.