This Swift Reversal Looks Worse Than It Really Is: Taking Stock
(Bloomberg) -- S&P 500 futures have been under pressure, currently down ~17 handles to 2,780, thanks to Trump markedly dialing the trade war knob higher by a couple of notches and China swiftly vowing retaliatory measures.
The plan to impose tariffs on an added $200 billion in Chinese goods -- this time a 10% tariff on products like clothing, refrigerators, and some tech products (though not mobile phones) -- comes just days after the administration imposed 25% duties on $34 billion of imports like machine tools and communication satellites. And it also hit only hours before the NATO summit, where Trump preemptively lashed out at Germany over a pipeline deal that it made with Russia (though the market has been paying way more attention to China versus NATO as of late).
Looks Worse Than It Really Is
The talk of things now heading towards full escalation mode explains the reversal in the e-minis, though it's important to note that the futures are well off overnight lows of 2,766 and poised to retrace less than half of this week's rally, and we also remain well within the upper half of the 2,700-2,800 range that we've been in for months. The weakness is also much more pronounced in other major global markets, like China where the SHCOMP fell 1.8% and Europe where the Stoxx 600 is off 1.2% and near the day's lows.
It's important to note that S&P 500 cash spent most of Tuesday's session hovering only a handful of points below that big 2,800 resistance mark. I'd imagine that many think that this latest trade wrench may crush any hopes of breaching that line in the near term (something that we haven't been able to do since the market plunge in early February), but I wouldn't be so sure of that given the relatively tepid reaction to the news so far and the action in the past couple hours.
For today, I'd expect weakness in the industrials -- perhaps most noticeable in the trade proxies like Caterpillar and Boeing and any multinationals -- and a mixed tape for the industrial distributors, where MSM just released weak top-line guidance and FAST came out with seemingly OK numbers. Tech should also be under pressure, especially the semis (NXPI already down almost 3% after some positive ZTE-related mojo on Tuesday). More defensive groups like utilities and the consumer staples (more on this sector below) should relatively outperform as long as the broader market languishes from these latest trade headlines.
One of the worst-performing sectors this year has caught fire of late. Consumer staples, down nearly 8% year-to-date and the weakest in the S&P 500 besides telecom (which only accounts for a meager three stocks), has looked like anything but a loser since the end of May. We highlighted the staples "gone streaking" off oversold levels in the early days of the recovery, but things have improved meaningfully since then, to the point where the group has outperformed all others in the S&P, the XLP has seen way more inflows than outflows lately (14 of the last 20 days have seen flows sit tight or rise), plus that ETF is beyond close to being in overbought territory from an RSI perspective (closed yesterday at 68).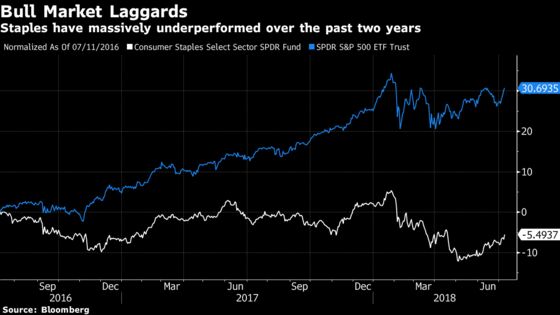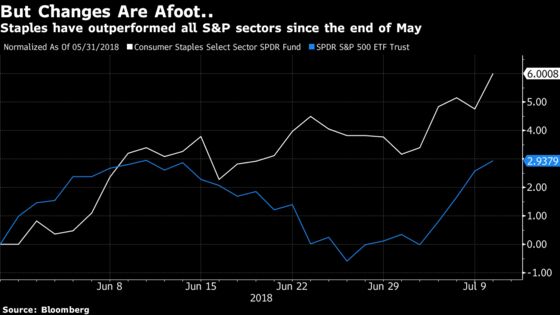 Second-quarter earnings have started to come in better than expected, from spice purveyor McCormick up 11% since late June results (the company is off fiscal year so results only ran up until the end of May) to beverage megacap Pepsi, which easily led the S&P 500 Tuesday after beating a low bar on the earnings front -- pricing power and an unchanged FX forecast, despite the recent rally in the dollar, were bright spots pointed out by the bulls.
It's early, but so far this stands in stark contrast to what we saw last quarter, when traders punished Philip Morris (-16%) and Procter & Gamble (-4.2%) for their weaker-than-expected results, setting the stage for an ugly earnings season for the rest of the group (XLP tanked 17% from late Jan. peak to early May trough). The tobacco giant is the sole major staple on tap to report over the next two weeks, so sentiment may ride with them unless a bellwether preannounces or we see a rotational shift away from defensive sectors start to make waves -- though that seems unlikely in the near term given renewed fears from Trump's latest tariff ploy.
Nomura Instinet's Mark Kelley (formerly at Citi and tabbed as a Rising Star by Institutional Investor last year) started coverage of the Internet sector with a positive view, citing room for growth in digital ads for the foreseeable future. Of the nine initiations, only three are buys (FB, GOOGL, SPOT) while just one stock gets a reduce, and that is TWTR ("valuation is stretched") in the call that sticks out the most from the note..
Credit Suisse's Douglas Mitchelson (formerly of UBS) took over coverage of the media and telecom sectors with one of the highest price targets out there on NFLX at $500 and self-proclaimed out-of-consensus calls on SIRI and FOXA, both at outperform, as well as DISH and T, both underperform..
Big call out of Barclays where the bank is now the biggest bull on TRIP, upgrading shares to overweight and boosting its price target to a Street-high of $70: "Fundamentals are starting to turn around now and we see a compelling path for the company to grow revenues and top-line at a healthy CAGR."
As for earnings previews that are starting to trickle in, JPMorgan is out on machinery with expectations for conservative guidance (though CAT seen issuing a "more upbeat outlook to supersede its poorly received 'high water mark' commentary" from last quarter) as well as on the transports, noting that the U.S. rails are in a "sweet spot" and shifting ratings on a couple names: Downgrading WERN to underweight and upgrading CHRW to an equal-weight.
Tick-by-Tick Guide to Today's Actionable Events
Today -- NATO summit in Brussels (day one of two)
Today -- IPO lockup expiry: LBRT
7:00am -- ANGO earnings
8:30am -- PPI
8:30am -- MSM earnings call
9:30am -- GIS investor day
10:00am -- Wholesale Trade & Inventories
10:00am -- Bank of Canada rate decision
10:00am -- FAST earnings call
10:30am -- DoE oil inventories
11:00am -- ENTG investor meeting
1:00pm -- Treasury auction: $22b 10-year notes reopening
2:00pm -- World Cup semi-finals: England vs Croatia
4:30pm -- Fed's Williams speaks with community leaders in Brooklyn
9:00pm -- COST monthly sales
Tonight -- OZRK earnings, ABX preliminary 2Q production