Loans Are Now the Most Popular Way of Getting Home Solar Panels
(Bloomberg) -- The loan has emerged as the most popular option to finance solar panels atop U.S. homes, edging past the very thing that drove the sector's surge -- the no-money-down lease.
Loans are projected to account for 1,053 megawatts this year, up from 410 megawatts in 2016, according to a report Wednesday by GTM Research, Wood Mackenzie Ltd.'s advisory firm on the global electricity industry. Consumers will own their systems if they finance through loans. That's different from the leases, which are expected to fall to 818 megawatts this year from 1,407 megawatts in 2016.
The shift has been years in the making. More lenders and investors are flocking to solar, in part driven by its maturity. Equipment costs have largely fallen, making loans more palatable for consumers. And Tesla Inc. -- the sector's former market leader -- has pivoted away from leasing as solar installations have slowed.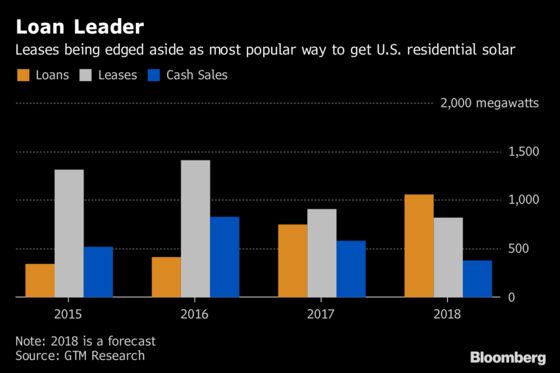 The variety of loan products has deepened options for consumers. There are even no-money-down loans available. Besides loans and leases, homeowners can also buy panels outright.
"It's an increase in consumer choice, which almost always benefits the consumer," said Allison Mond, a Boston-based analyst at GTM, in an interview. "People just want to save money every month."