As Comcast Weighs Higher Fox Bid, Sky Offer Now in Jeopardy Too
(Bloomberg) -- Rupert Murdoch's 21st Century Fox Inc. boosted its bid for Sky Plc, adding pressure on Comcast Corp. to retaliate in a global game of M&A chess that's being waged by the world's biggest media companies.
Fox offered 14 pounds per share, valuing Britain's top pay-TV company at 24.5
billion pounds ($32 billion). That's 12 percent more than Comcast's rival 22
billion-pound offer.
Now it's up to Comcast to respond. Sky is a pawn in a wider contest between Comcast and Walt Disney Co. for the bulk of Murdoch's media empire, as the U.S. media giants try to take on powerful digital rivals like Netflix Inc. Murdoch has a deal to sell Fox's entertainment assets to Disney, including its Sky stake. Meanwhile, time is running out for Comcast Chief Executive Officer Brian Roberts to come in with a counter bid in both the battle for the Fox portfolio and for Sky.
"It's like a game of chicken at this point," Brian Wieser, senior analyst at Pivotal Research Group, said in an interview with Bloomberg TV. "All parties involved are attempting -- other than Fox potentially -- are attempting to inflict damage on the other side while also getting the best out of this."
Still, some investors had expected a higher counteroffer from Fox. They sent shares down as much as 2 percent on Wednesday, though they remain above the Fox bid. Sky shares fell 0.5 percent to close at 14.94 pounds in London.
"They're way behind the curve still," said Crispin Odey, founder of Odey Asset Management LLP, which owns shares of Sky. "I think it will go at about 18 pounds."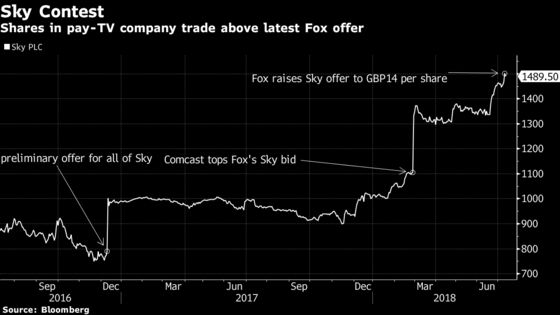 The clock was ticking on Fox to make a higher bid for Sky, because Comcast faces a deadline of Friday to formally deliver its offer documents to shareholders of the London-based company, under U.K. takeover rules.
The expectation from some analysts had been that Fox would wait for final U.K. approval before coming back with a higher bid, but with Prime Minister Theresa May's government committing to release a decision on Thursday, Fox pulled the trigger.
Credit-rating firm Moody's Corp. said the higher bid is credit negative, whether or not Fox stays independent or ties up with Disney. Fox shares fell as much as 5.1 percent and traded down 3.7 percent to $47.93 as of 2:43 p.m. in New York trading. Comcast rose as much as 2.5 percent, and Disney shares climbed as much as 3.1 percent.
A spokesman for Comcast declined to comment on how the company will respond.
The U.K. government has already said it's likely to approve Fox's bid for Sky after Fox satisfied concerns that Murdoch would gain too much of a hold over U.K. media. Britain's former Culture Secretary Matt Hancock, who was replaced Monday night with Jeremy Wright in a cabinet shakeup, had said he was willing to let the takeover go ahead, provided Fox sold Sky's 24-hour news channel to Disney.
Fox first went after the 61 percent of Sky it doesn't already own in December 2016, offering 10.75 pounds per share, but was held up over concerns that the tie-up would give Murdoch too much influence over Britain's media.
Comcast tabled a proposal of 12.50 pounds per share for Sky in February, and Sky's stock has traded consistently above the Comcast offer as investors anticipated Fox or Disney would come back with more.
"Comcast is likely to lose Fox and focus their resources on winning Sky," Jonathan Chaplin, an analyst at New Street Research LLC, wrote in a note. He estimates Comcast could respond with a bid of 16 pounds a share for Sky. "Of all the assets in the Fox portfolio, they probably view Sky as the most strategically important."
Sky's independent directors accepted the latest Fox offer.
"We welcome this increased offer," Martin Gilbert, deputy chairman of Sky, said in an emailed statement. "This offer reflects the strong position the business is in and is an attractive premium for shareholders."
Sky gives Fox and Comcast a rare opportunity to diversify out of the U.S. and reach more consumers directly. Sky has 23 million customers in five European countries and also boasts a market-leading platform, its Q box, and a suite of premium TV content to lure and retain subscribers, including rights to Premier League soccer. Of the assets he's seeking to acquire from Fox, Disney Chief Executive Officer Bob Iger called Sky "a real crown jewel."