Bugattis to BMWs Won't Purr on China Fuel If Trump Gets Way
(Bloomberg) -- Donald Trump is snuffing out any chance for China to tap into the growing market for powering the supercars cruising around Malibu and Manhattan.
The U.S. administration's latest 195-page list of an additional $200 billion in Chinese goods targeted for import tariffs includes seemingly obscure products such as benzene, toluene, xylene, methyl tertiary-butyl ether and butanol. These are typically blended with gasoline to make premium fuel used in luxury vehicles with more powerful motors.
Here's the catch though: China doesn't export much of those petroleum goods to the U.S. anyway. In fact, across the oil-product spectrum, the Asian nation is a tiny supplier to America, signaling that at least some of the Trump administration's potential tariffs will have little immediate impact on trade.
"The list is enormous, basically targeting everything there is because in order to slap duties on $200 billion worth of goods, you have to include everything," Kim Kwangrae, a commodities analyst at Samsung Futures Inc., said by phone. "The additional tariffs won't have a big impact on China's oil-products market, rather it's seen as a counterattack from the U.S., which signals that it will target anything and everything to keep the trade war going."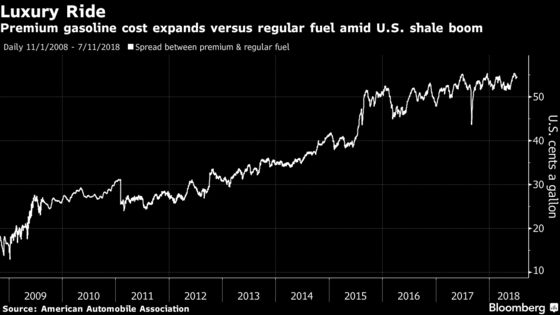 till, the proposed levies may completely shut Chinese supply out of a U.S. market where demand is rising. American crude from shale fields that have boomed over the past decade are typically of a lighter variety that yields gasoline with lower octane levels when processed. While this type of fuel is fine for use in regular cars, it's not ideal for a more luxurious ride such as, say, the Rolls-Royce Phantom.
That's because it tends to burn prematurely in more powerful motors, leading to what's called a knock and potential damage. Blending components increase octane levels. Premium gasoline now costs on average almost 55 cents a gallon more than the regular variety in the U.S., according to data from the American Automobile Association. The difference was as low as 13 cents in 2009 and rose to about 30 cents in 2011 after the shale boom took off.
The Chinese Commerce Ministry said that it would be forced to retaliate against what it called "totally unacceptable" U.S. tariffs. There have been no confirmed high-level talks between to two sides since an early June visit to Beijing by U.S. Commerce Secretary Wilbur Ross that achieved no breakthroughs.
The U.S. imported an average of about 65 million barrels of oil products a month in the January-April period, according to data from the Energy Information Administration. Out of that, 18.3 million, or almost 30 percent, were motor fuel blending components -- none of which came from China. The Asian nation accounted for just over 1 percent of America's overall oil-product purchases from overseas, with kerosene-type jet fuel -- also included in the tariffs list -- making up most of the shipments.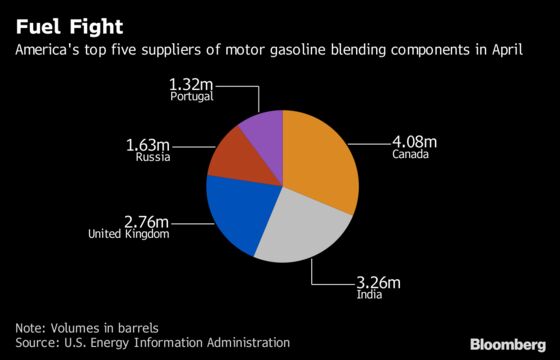 The move to potentially shut China out of the American motor-fuel blending component market is good news for other countries in Asia -- such as India and South Korea -- that have been steadily shipping more of such products to the U.S. and are seeking to gain share from dominant suppliers Canada and the U.K. From 12.4 million barrels of total imports in December, inbound shipments jumped to 23.8 million in April, data from the EIA show.