Bond Traders' Inflation Bets May Ignore Growth Risk From Tariffs
(Bloomberg) -- Investors who are piling into U.S. inflation-linked debt as a hedge against overheating growth and trade disputes may be taking on more risk than they realize.
The biggest exchange-traded fund that focuses on Treasury Inflation Protected Securities just saw its largest two-week inflow since February amid escalating oil prices and tariff threats. Meanwhile, some market measures of near-term inflation have risen: Swaps are pricing in core consumer-price inflation of around 2.8 percent in 2020, according to Bloomberg calculations. Core CPI hasn't been that high since 2006, and June's figure, to be released Thursday, is expected to be 2.3 percent.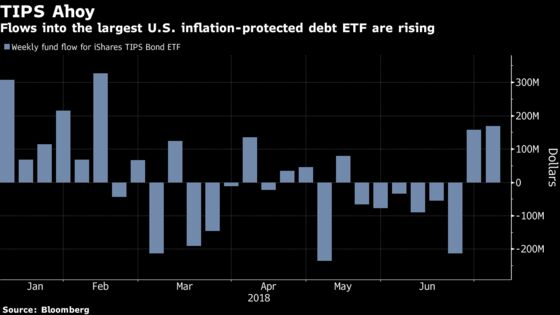 The risk for TIPS buyers is that they may themselves be paying inflated prices. Data Thursday are projected to show core inflation is climbing, but Barclays Plc's Michael Pond says the risks to the CPI outlook are skewed lower, not higher. That's in part because wage growth remains subdued and trade tensions may wind up depressing prices should the economy take a hit.
"We're not looking for a pickup in inflation as a result of the trade war -- in fact, it could go the other way," said Pond, head of global inflation markets strategy.
If the swap market's valuations seem stretched, oil traders may be partly to blame. Expectations for robust U.S. supply have driven the price of longer-term oil contracts below current prices. This rare state, known as backwardation, may not be factored into inflation-market prices, which might be artificially high as a result.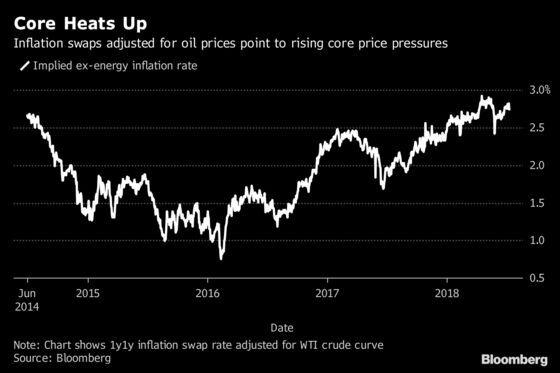 The kink in the oil curve may also be weighing on the market's long-term outlook for inflation, along with a conviction that the Fed can keep price pressures contained, which is reflected in the flattening yield curve.
The shrinking of the Treasuries' curve is getting all the attention, but the inflation market was ahead of that trend -- the gap between 5- and 10-year breakevens has been in single-digits for most of the past two years. That means investors are paying around the same for inflation protection over five years as over a decade.
The countering view, which Pimco's Jeremie Banet supports, is that markets are underestimating the risk of an inflationary spiral.
"The market's not pricing any probability of a regime shift, which we think is pretty complacent," said Banet, a fund manager on the firm's real return team.
He anticipates a trifecta of policy-induced inflation pressures: tariffs, curbs on immigration and the mounting fiscal deficit. Moreover, he sees these factors coinciding with the latter stages of the business cycle, with the U.S. expansion in its 10th year.
While a trade war could slow growth, Banet argued that may not be enough to take the heat out of prices. Instead, inflation could surge on diminished competition and a breakdown in the global supply chains that have curbed input costs, he said.
"If you really want to live in a world in which everything is produced in the U.S., prices will get substantially more expensive," he said.
One thing both sides agree on: The impact of trade wars may not take shape for months.
Pressures are starting to mount, judging by Wednesday's report on producer prices, which showed the strongest annual increase since 2011. Omair Sharif, an economist at Societe Generale, says that the effect of tariffs is in its early days, as manufacturers will probably try to absorb the additional costs for a while to avoid losing customers.
"The pass-through to CPI is potentially more limited for now, as manufacturers are worried about preserving market share, and holding out for the possibility of a quick resolution," he said.
As for CPI, the autos component will draw scrutiny as a gauge of the impact of tariffs on imported cars. Barclays is looking for core inflation to rise 0.2 percent on the month and Pond, the strategist, says a higher reading could drive the Treasuries curve even flatter.
The Fed is "more likely to treat a downside surprise as a one-off to be dismissed," he said. But a higher-than-expected reading "might confirm their view that the economy is running a little hot."
And that conviction could steel the Fed's resolve in the battle against inflation, reaffirming their rate-hike projections and leaving the inflation hedgers on the losing side of the trade war.