Tesla Was Already Priced for Long-Term Perfection
(Bloomberg Opinion) -- Tesla bulls (be they man or machine) added about $1.6 billion to the company's market value in the first few minutes of trading Tuesday morning. Tesla Inc.'s CEO Elon Musk was reported to have secured a preliminary agreement to build a plant in Shanghai that might one day churn out 500,000 vehicles a year, effectively doubling notional capacity.
So this is just a reminder of one thing for anyone buying Tesla's stock at Tuesday morning's intra-day peak of $327.68: If you paid $318.51 for Tesla's stock on Monday, you had already pretty much bought the China story. There was really no need to pay any more.
At Monday's close, Tesla was priced at 37 times consensus earnings — in 2020 (and excluding stock-based compensation). The consensus for Tesla's vehicle sales in 2020 is about 635,000 units, based on figures compiled by Bloomberg. That is about six times last year's actual deliveries and likely beyond existing capacity, given the recent resort to the Tesla tent to boost second-quarter production.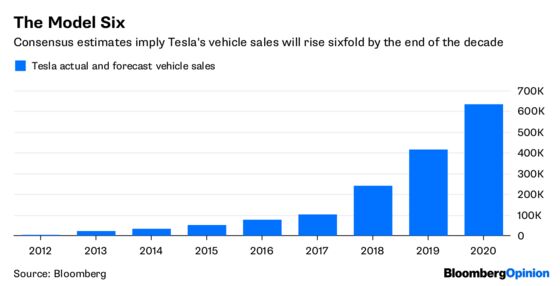 Tesla's sky-high valuation has always been weighted heavily to both the long term (see this) and rampant success across multiple vehicles, geographies and businesses, either existing or yet-to-come (see this). If you're already paying 37 times non-GAAP earnings three years out, you are implicitly banking on Tesla making it big in China and elsewhere anyway.
I am reminded of a similar reaction last November, when Tesla unveiled a couple of semi trucks. Then, as now, there was excitement about new growth prospects that, at 26 times 2020 non-GAAP earnings back then, was largely priced in already.
Back then, I added it was especially odd to pay even more for the notional value of Tesla taking on a complex new vehicle challenge because it was struggling already to deliver on earlier promises for the Model 3. Instead, the truck raised the prospects of Tesla needing to raise more money to pay for it. Since then, Tesla has resisted tapping the equity market and only managed to hit its latest Model 3 target with the aid of that tent, which doesn't bode well for margins.
In that context, Tuesday's announcement seems even less like a cause to bid up Tesla's multiple even further. The pressing need is to generate a return on the billions invested in existing capacity, rather than signing up for billions more going into yet more capacity.
A bull might argue that even a preliminary agreement de-risks an important source of future growth. But the rejoinder would be that, in the context of Tesla's awful liquidity ratios, it also offers a potential rationale for management to change its tune and ask for more capital.