It's Size, Not Sanctions, That Did for Idemitsu
(Bloomberg Opinion) -- The last two major companies holding out against Japan's plans to consolidate its bloated refinery sector are finally giving in.
After almost three years of wrangling driven by Idemitsu Kosan Co.'s founding family, the company will merge with Showa Shell Sekiyu KK after shareholders – including those founders, who opposed the initial version of the deal – signed off.
The fight has been laced with geopolitics from the start. The Idemitsu family's initial intervention in 2016 claimed that Showa Shell was "under direct control of Saudi Arabia," according to a statement they released after promising to oppose the merger. That's a rather exaggerated way to characterize Saudi Aramco's 15 percent shareholding in the Japanese refiner, but one that chimes with Idemitsu's own history of close ties to Iran, dating back to a buccaneering 1953 deal with that country's newly nationalized oil industry.
With Saudi Arabia again opening the spigots to offset shortfalls due to the U.S. government's impending sanctions on Iran, it's tempting to regard the resolution of this dispute as a ripple effect from events in Washington: Iran's home-team refiner tying up with Saudi Arabia's ally in recognition of the coming drop in crude from its key supplier. 
Tempting, but wrong. In truth, it's been years since Idemitsu was hand in glove with National Iranian Oil Co. Indeed, it's the supposed Saudi stooges at Showa Shell who've been Tehran's most enthusiastic customers of late, buying more than half of all Iranian oil imported into Japan during the first half of 2016. By contrast, Iran now accounts for less than 1 percent of Idemitsu's imports, that company said in May.
How, then, to explain the long journey to consummation?
A better argument centers on money and power. The two companies have been careful to bill the deal as a merger, but the truth is likely to be more complex. While they're close to twins in terms of scale, with Idemitsu's 500,000 barrels a day capacity only narrowly outstripping Showa Shell's 445,000, their capital structures couldn't be more different.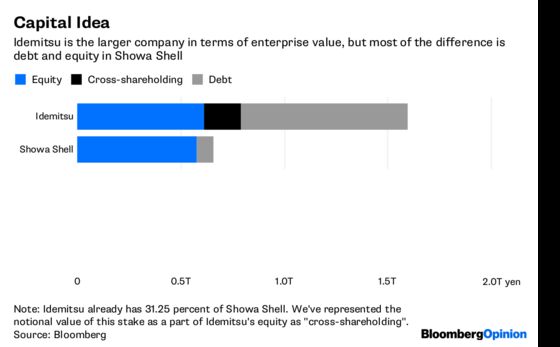 Idemitsu's enterprise value, at 1.63 trillion yen ($14.7 billion) on the eve of Tuesday's announcement, is more than twice Showa Shell's 679 billion yen – but the vast majority of the difference is its 805 billion-yen debt pile and the 31.25 percent stake it already holds in Showa Shell.
That means the original arrangement, which gave equal board representation to both sides, seemed reasonable: Showa Shell's smaller capital base was offset by the higher quality of its less leveraged structure, leaving both companies in about the same place.
The revised agreement shows the benefits of intransigence. The initial board of the new company will give a clear majority to Idemitsu, with five nominees compared with the three put up by Showa Shell. Two of those five will be directly nominated by the "major shareholders," in other words members of the family that was threatening to upend the deal.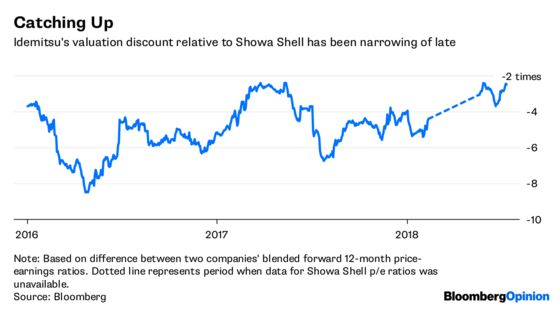 The money side of that equation is still to be worked out. The companies haven't agreed on the ratio at which their shares will be exchanged, but the fact that their stock prices will be "the main criterion," according to Idemitsu's statement, is another point in its favor.
You generally don't want to carry out a stock-based deal if your own equity is undervalued, and that has been a problem for Idemitsu because of its persistent valuation discount to Showa Shell. The situation has been improving, though: On the eve of Tuesday's agreement, the discount reached its narrowest levels since the transaction was proposed in 2015.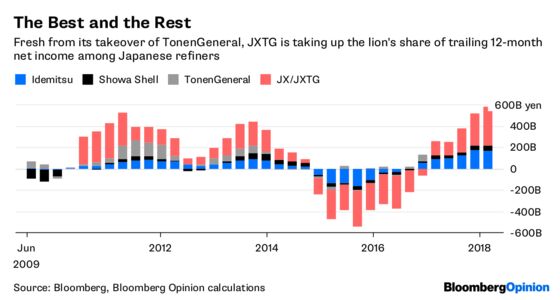 A deal, either way, is overdue. As Kobe Steel Ltd. found out in recent years when it was squeezed between JFE Corp. and Nippon Steel & Sumitomo Metal Corp., life as the small player in a rapidly consolidating Japanese industrial market isn't pleasant.
With the country's other refinery merger, between JXTG Holdings Inc. and TonenGeneral Sekiyu KK, now bedding down and taking an increasing share of the profits in the market, Idemitsu and Showa Shell will have to grow to survive.