Lord Carrington, Churchill's Last Surviving Minister, Dies
(Bloomberg) -- Lord Carrington, the House of Lords member who served six U.K. prime ministers and was the last surviving member of Winston Churchill's administration, has died. He was 99.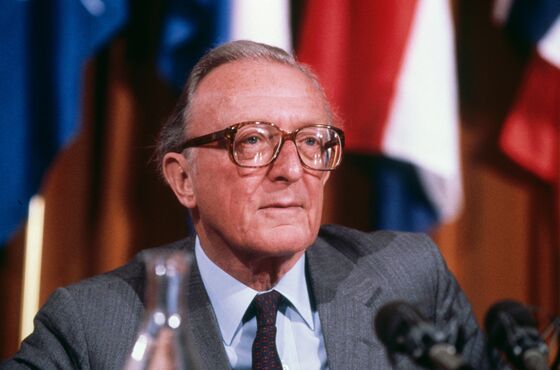 Carrington became one of the Conservative Party's most influential policy makers through the 1970s and 1980s after beginning his political career as a junior agriculture minister in Churchill's government in 1951. Best known as Margaret Thatcher's foreign secretary from 1979 to 1982, he later headed NATO for four years as the Cold War drew to a close.
"Patience, consistency, knowledge, and if you want to be successful in the end, a great big slice of luck," Carrington said of the requirements for successful diplomacy in a 1984 interview with University of California Television.
After holding posts in the Conservative governments of Harold Macmillan and Alec Douglas-Home, Carrington became defense secretary under Prime Minister Edward Heath in 1970 and briefly held the newly created post of energy secretary to counter the supply challenges caused by the 1973 oil crisis.
As foreign secretary, the former World War II army major oversaw the 1979 Lancaster House agreement that led to Rhodesian independence, ushering in Robert Mugabe as Zimbabwe's first prime minister. Carrington was also considered the last U.K. minister to resign honorably after taking responsibility for the nation's failure to foresee Argentina's invasion of the Falkland Islands in April 1982.
"If a person says to me 'it's a matter of honor and I feel I should go,' that's the one ground on which I am not at liberty to refuse," Thatcher said of his resignation in a 1982 interview with the U.K.'s Independent Television News. "He's been a marvelous foreign secretary. I've been with him on so many occasions. He's a sturdy and bonny fighter for Britain, a very gallant officer and we shall miss him."
As a Conservative who nurtured ties with working-class Britons, Carrington was known to have a frosty relationship with Thatcher, who took on the nation's unions in her first term as prime minister. The former foreign secretary, who later in life named his dogs after the British leaders he had worked for, said the differences of opinion with Thatcher didn't affect their ability to work together on world affairs.
"It may be a defect in my temperament that I find it much more natural to like than dislike people I work with or for," he said in his 1988 memoir, "Reflect on Things Past." "I may be irritated by characteristics but I generally sympathize with perceived difficulties and challenges."
Peter Alexander Rupert Carington was born June 6, 1919, in Aylesbury, a town in the English county of Buckinghamshire. The spelling of his family surname differed from his House of Lords title. He became 6th Baron Carrington of Upton in 1938.
His father, Rupert Victor John Carington, was the 5th Baron Carrington and his mother, Sibyl Marion Colville, was the daughter of the 2nd Viscount Colville. The Carington family was part of a dynasty of bankers and land owners who produced several Conservative politicians.
Carrington attended Eton College in Windsor, Berkshire, and the Royal Military College, Sandhurst, before serving in the Grenadier Guards during World War II. He was awarded the Military Cross in 1945 after capturing a bridge in the Dutch city of Nijmegen. Having taken over the seat that his father vacated in the House of Lords, he was invited to join Churchill's administration after a day out shooting with farmers, according to a 2013 interview with the Daily Telegraph.
"You've been shooting partridges? Would you like to join my shoot?" Churchill asked the young Carrington.
After posts as high commissioner to Australia and first lord of the Admiralty, he entered Douglas-Home's cabinet as a minister without portfolio and as leader of the House of Lords in 1963. Carrington then served Heath until Labour Party leader Harold Wilson won office in 1974, before spending two years as chairman of General Electric Co.
His tenure as secretary-general of the North Atlantic Treaty Organization coincided with a thaw in Cold War relations, marked by arms-control agreements between U.S. President Ronald Reagan and Soviet leader Mikhail Gorbachev. Having advocated a 50 percent reduction in strategic nuclear weapons while in the post, Carrington later lamented that the end of the Cold War had extinguished a discipline imposed on world diplomacy.
"If the Cold War had still been going on, Yugoslavia would never have broken up because people would have been too frightened," he said. "Saddam Hussein would never have invaded Kuwait. Afghanistan would never have happened."
Carrington was given a life peerage in 1999 after most hereditary peers were removed from the House of Lords.
He was married to Iona McClean, the daughter of Irish pioneer aviator Francis Kennedy McClean. She died in 2009. They had three children, Alexandra, Virginia and Rupert.