U.S. Job Openings Eased From a Record to 6.64 Million in May
(Bloomberg) -- U.S. job openings cooled in May from a record to a level that's still consistent with a tight job market that's encouraging more Americans to voluntarily leave their positions for better opportunities, Labor Department data showed Tuesday.
Highlights of Job Openings (May)
Number of positions waiting to be filled dropped by 202k to 6.64m (est. 6.62m) from an upwardly revised 6.84m in April, according to Job Openings and Labor Turnover Survey or JOLTS
Hiring climbed to 5.75m from 5.58m; hiring rate rose to 3.9% from 3.8%
3.56m Americans quit their jobs, up from 3.35m, pushing quits rate to a 17-year high of 2.4% from 2.3%
Layoffs declined to 1.59m from 1.73m
The elevated number of job postings is in sync with the continuing broad trend of job-creation at a pace that's helping to absorb remaining slack in the labor market. March had marked the first time in JOLTS data back to 2000 that vacancies exceeded the number of unemployed, and the gap is widening as hiring stays strong.
What's more, the increase in the quits rate shows Americans leaving their jobs are growing increasingly confident about finding a new one that likely pays more and offers better benefits.
Payrolls increased more than forecast in June and more people entered the labor force to look for work, helping push the unemployment rate up for the first time in almost a year, to 4 percent, according to figures released last week.
Although it lags the Labor Department's other jobs data by a month, the JOLTS report adds context to monthly payrolls figures by measuring dynamics such as resignations, help-wanted ads and the pace of hiring.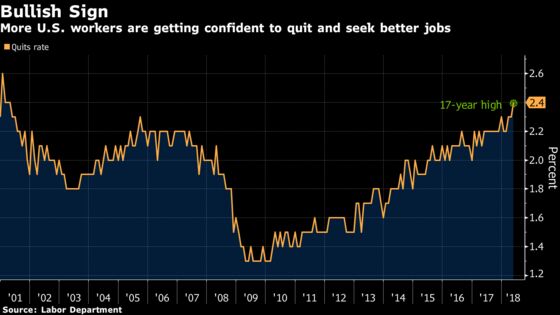 There was 0.9 unemployed person per job opening, compared with 1.9 people when the recession began at the end of 2007
Openings increased in government, mining and oil drilling, finance and retail trade
In the 12 months through May, the economy created a net 2.5 million jobs, representing 66.4 million hires and 63.9 million separations.