Improving U.S. Prospects Lifts Couche-Tard Stock Most in 5 Years
(Bloomberg) -- Alimentation Couche-Tard Inc. is winning U.S. customers back, one fountain drink at a time.
Shares rose the most in more than five years after the Canadian owner of Circle K convenience stores reported earnings that beat analysts estimates and showed a rebound in merchandise sales south of the border, where traffic had slowed in recent quarters.
Same-store merchandise revenue in the U.S. rose 1.8 percent, helped by improving revenue at CST Brands Inc., the gas-station company Couche-Tard bought for almost $4 billion last year and that had been dragging the U.S. network down.
"It is encouraging to see that same-store sales for CST has turned positive," Jennifer Bartashus, a retail analyst at Bloomberg Intelligence, said in an email. "This should help support same-store sales growth for the overall U.S. business going forward."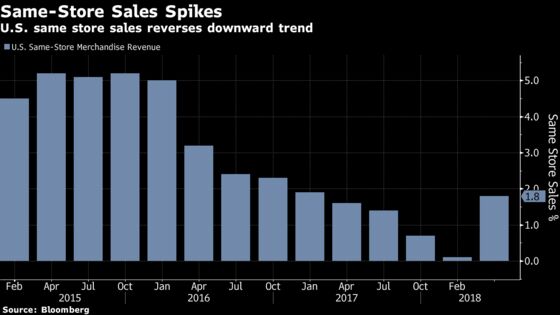 Couche-Tard has launched a series of targeted promotions, a tobacco loyalty club and beefed up food offerings to counter a traffic slowdown. The $550 billion convenience store industry in the U.S. is getting squeezed by competition from all sides. Fast-food restaurants and supermarkets are slugging it out in price wars, while dollar stores keep popping up.
The shares rose 7.4 percent to C$61.24 at 9:55 a.m. in Toronto, after earlier jumping the most since April 2013. The stock has dropped 6.7 percent this year.