Higher Pay Seen Easing Tariff Drag as U.S. Heads Back to School
(Bloomberg) -- The trade war isn't deterring U.S. shoppers from their back-to-school spending, according to one research firm.
School shopping will rise about 5.1 percent to a record $595 billion in the July-to-September period in part because of higher disposable income and employment gains, Customer Growth Partners said in a report. Spending rose 4.3 percent in the same period last year, the firm's research shows.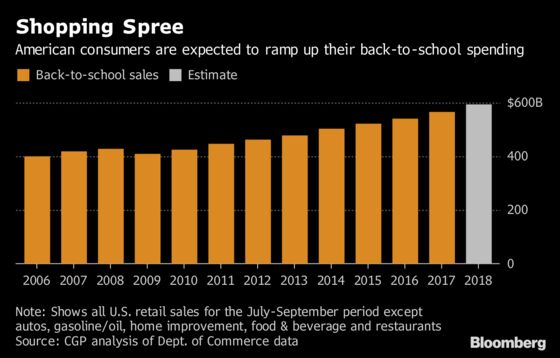 "The massive growth in household income will provide a halo over consumer spending even in the wake of new tariffs -- and even a friendly tailwind to retailers' sales growth," CGP President Craig Johnson said in an interview.
The strong demand for back-to-school may indicate a healthy Christmas season for retailers, Johnson said. That would be a welcome development for an industry that's struggled with changing consumer tastes and falling traffic at brick-and-mortar locations.
There's been little or no impact on shopping tendency so far from the round of tariffs between the U.S. and its main trade partners.