Buhari Faces United Opposition Challenge in Nigerian Vote
(Bloomberg) -- Nigerian President Muhammadu Buhari rode to power three years ago on the back of a broad coalition determined to oust the ruling party. Now the West African nation's opposition parties are planning to use the same maneuver to defeat him in February's general elections.
The People's Democratic Party, which held power for 16 years until its 2015 defeat, signed an agreement with 38 other opposition groups to form the Coalition of United Political Parties on Monday in the capital, Abuja, and back a single candidate against Buhari. Many of his former supporters have deserted him, including ex-president Olusegun Obasanjo, who's campaigning against his re-election in Africa's biggest oil producer.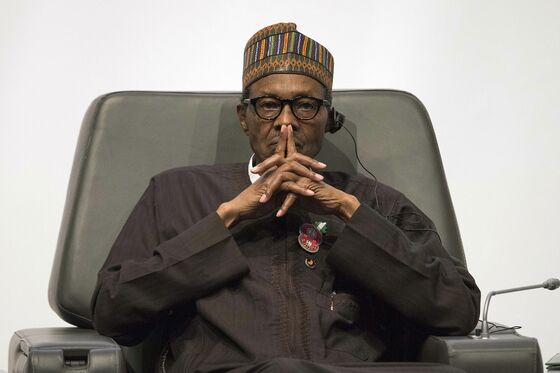 "If they can choose one candidate, they do have a coalition that is strong enough to defeat Buhari," said Cheta Nwanze, an analyst at Lagos-based SBM Intelligence risk adivsory.
Buhari, a 75-year-old former military ruler, won the presidency on his fourth attempt after several opposition parties merged to form the All Progressives Congress. The alliance included a faction of the then- ruling PDP that styled itself as the "New PDP" and went on to produce the Senate President Bukola Saraki and the speaker of the House of Representatives, Yakubu Dogara.
Now it's turned against Buhari and joined the new opposition coalition, although neither Saraki nor Dogara have publicly confirmed leaving the ruling party.
"It's like history repeating itself," said Clement Nwankwo, executive director at the Abuja-based Policy and Legal Advocacy Centre. "The party in power should feel threatened."
Key to the chances of the new opposition alliance, known as CUPP, will be picking a single candidate in primaries due to be held between Aug. 18 and Oct. 7, Malte Liewerscheidt, vice president of risk advisory group Teneo Intelligence, said in an email. While Atiku Abubakar, a former vice president and businessman who defected from Buhari's party last year, remains the front-runner, another contender may be former Jigawa State governor Sule Lamido, he said.
"Should the united opposition emerge from the primary process unscathed, it will be very difficult for Buhari to gain a second term," Liewerscheidt said.
Buhari, who spent a total of five months in the U.K last year for treatment of an undisclosed ailment, will have to defend a record that includes continuing attacks by Islamist militant group Boko Haram, deadly clashes between nomadic herders and crop farmers, and an anti-corruption crusade critics call partisan.
Yet Buhari maintains strong support in the north and backing from Bola Tinubu, who helped him carry the southwestern region, home of the commercial capital, Lagos, three years ago. Besides the presidential election, Nigerians are due to vote for federal lawmakers as well as governors and legislatures for 32 of the country's 36 states.
While Buhari "remains in a strong position going into the campaign season," Jared Jeffrey, an analyst at NKC African Economics near Cape Town, South Africa, said in an emailed note, his record and age in a country with a youthful electorate could count against him.
"Should the CUPP choose a candidate with broad appeal (a northerner not disliked in the south) and the likes of Mr. Obasanjo get active in its campaign, the election could be very competitive indeed," he said.
(A previous version of this story was corrected to reflect the final day of the primaries.)