Bitcoin Heads for Its Biggest Drop in More Than Two Weeks
(Bloomberg) -- Bitcoin headed for the biggest drop in more than two weeks, as a rebound that saw the digital asset bounce almost 18 percent from the year's lows ran out of steam.
The largest cryptocurrency dropped as much as 6 percent on Wednesday, putting it on course for its worst day since June 22, according to composite prices compiled by Bloomberg at 7:42 a.m. in New York. The move was reflected in its peers, with Ripple, Ethereum and Litecoin all falling more than 4 percent.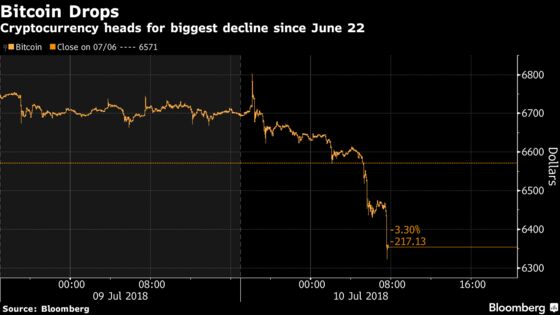 The lack of interest was reflected in traded volumes, which in June plunged to the lowest level in more than a year, according to data from exchange Bitstamp Ltd., compiled by Bloomberg. Worldwide searches for the term "Bitcoin" hovered near the lowest level in a year, according to Google Trends data. Tweets that mention the coin peaked Dec. 7, at 155,600, and are now down to about 30,000 per day, BitInfoCharts says.