Hottest U.S. Tech IPO Since Zscaler Will Face Analyst Appraisal
(Bloomberg) -- One of the year's best-performing debuts by a U.S. technology firm will be the subject of Wall Street scrutiny Tuesday, when a round of analyst initiations are expected to opine on whether Avalara Inc. has more room to run after shares have nearly doubled.
On July 10, a quiet period expires for perhaps the most amicable analysts on Wall Street: those working at banks that underwrote Avalara's initial public offering last month. The listing's 25-day anniversary will probably prompt initiations from lead banks Goldman Sachs, JPMorgan and Bank of America Merrill Lynch. JMP, KeyBanc and Stifel were also on the syndicate.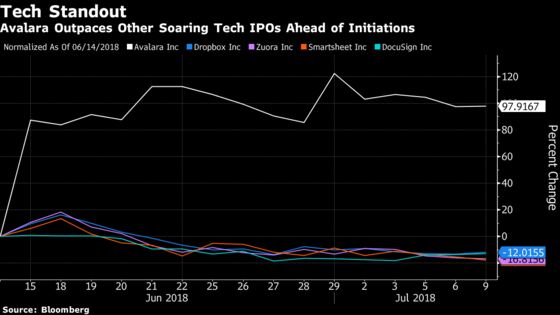 Shares in the sales tax management firm have surged, thanks in part to a U.S. Supreme Court ruling last month that allows states to collect sales tax from online retailers. Among U.S. companies that raised at least $15 million in 2018 IPOs, Avalara's 98 percent gain trails only Zscaler Inc., which is up 149 percent. Technology debuts have broadly gone well so far this year, rising 53 percent on average, weighted by offering size.
But a more cautious approach from analysts could prompt Avalara to pare some of its gains. Shares of the Seattle-based company rose 0.2 percent on Monday.