Activist Snobr Bets on CEZ Upside as Nuclear Risk Spooks Market
(Bloomberg) -- A group of activist investors led by Michal Snobr sees Czech power company CEZ AS as undervalued and is betting that the largest traded energy utility in eastern Europe will fend off government pressure to finance nuclear expansion on its own.
The state-controlled power generator stands to benefit from resurgent electricity prices more than its peers once concerns about political risks disappear from investors' assessments of the stock, according to Snobr, who represents four shareholders jointly holding more than 1 percent in CEZ.
"I believe this discount will evaporate once politicians realize it's practically and legally impossible to somehow force CEZ to make self-destructive investments in new reactors," Snobr said in an interview in Prague. "The Czech legal framework is robust enough to protect minority owners' rights."
His bullish view contrasts with the prevailing market sentiment, as 14 out of 18 analysts covering the stock recommend either selling or holding it. The consensus target price is 530 koruna, compared with the latest close of 550 koruna valuing the company at $13 billion.
Snobr, who has long been a vocal critic of CEZ's management, says the company should either split its assets to allow the state to proceed with the nuclear projects, or stay intact and extend the life of existing reactors, build gas-fueled power stations and invest more in renewables.
It's the latest evidence that investors across Europe are pressing power companies for shakeups as governments crack down on pollution and ever-cheaper renewables upend the traditional business model. In Germany, the three biggest utilities launched a $22 billion asset swap in March to make one company that primarily generates electricity and another that distributes it. In Spain, the main gas company is tilting toward electricity.
By contrast, the Czech government this year shot down an assets split proposed by CEZ. This is one of the reasons for a negative view of the stock among some investors. Kamil Kliszcz, an analyst at MBank SA's brokerage in Warsaw, estimates that nuclear projects without state support could wipe out about 35 billion koruna ($1.6 billion) off of CEZ market value for each gigawatt built.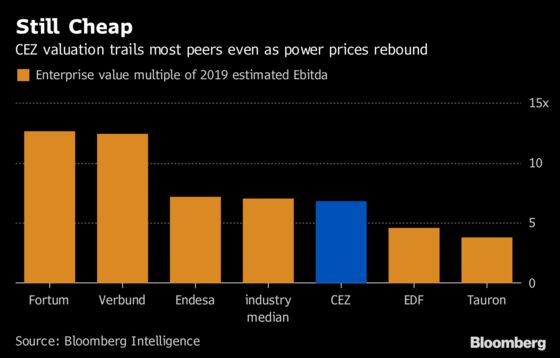 While CEZ shares have outperformed the Stoxx Europe 600 Utilities Index over the past 12 months, their 30 percent rally trails much steeper advances for Finland's Fortum Oyj and the Austrian utility Verbund AG, companies that are almost twice as expensive by some market metrics.
Snobr, who advises private-equity company J&T Finance Group SE on energy topics, sees CEZ's fair stock value "well above" 600 koruna. Rising prices of carbon permits and a planned phase-out of nuclear power plants in Germany will keep lifting the cost of electricity, which will have a "dramatically positive" impact on CEZ earnings and valuations because of its low carbon emissions and generation costs, he said.
"Without German reactors, Europe will increasingly rely on less stable supplies from renewables, and power prices will be higher and possibly more volatile," Snobr said. "CEZ will then be one of the biggest winners."
For now, the nuclear expansion risk is still present. Even with the price of electricity at the highest level since 2013, construction of atomic plants remains unprofitable. While a succession of governments has put new reactors at the core of the country's energy security, years of discussions have failed to produce an agreement on how to pay for them.
"The construction of reactors on a merchant basis won't be possible even if power prices keep rising," said Elchin Mammadov, a Bloomberg Intelligence analyst in London. "Nuclear stations last 60 years, while you can only hedge power three to five years ahead, not to talk about massive construction risks and decommissioning liabilities."
Other analysts' views:

Komercni Banka's Miroslav Frayer (buy rating, price target 620 koruna)

Further growth in electricity prices will prop up CEZ profits; uncertainty about new reactor may raise concerns among some investors."

MBank's Kliszcz (sell rating, price target 458.38 koruna)

Earnings improvement on rising electricity costs already priced in, CEZ trading at "undeserved premium" to Stoxx Europe 600 Utilities Index
"Investors seem to have forgotten the potentially destructive role of the Czech nuclear project from the standpoint of CEZ's investment profile"
Billionaire Prime Minister Andrej Babis is refusing to grant U.K.-style guarantees and has said the company can shoulder the cost of building at least one reactor. Babis's former Industry Minister Tomas Huner, who wasn't selected for the current cabinet, said such a scenario could prompt lawsuits by minority shareholders.
Babis has also slammed a proposal by Chief Executive Officer Daniel Benes to split CEZ into one company with coal and nuclear assets and another focusing on distribution, renewables, and energy services. Benes, whom Babis tried to remove as CEO in 2016 when he was finance minister, is not giving up on a plan to transform the utility.
"Our discussions with Andrej Babis aren't over," Benes said in a TV interview last month. "I am sure that I will convince him about my ideas."