Millions of Xiaomi Shares May Be Underwater From Day One
(Bloomberg Opinion) -- Millions of shares in Xiaomi Corp. could be in unprofitable territory right from the start.
According to the smartphone maker's prospectus, a total 48,787,104 Series F-1 preferred shares were issued to investors between December 2014 and August 2017. Early backers came into the startup through preferred stock that converts to ordinary shares upon Xiaomi's IPO.
Accounting for splits and adjustments, the preferred stock converts to Class B shares at a cost that's 18.82 percent below the expected offer price, Xiaomi's prospectus states, implying a price of HK$15.83 per share.
However, that discount's based on an assumed offer price of HK$19.50 — the middle of the range — and Xiaomi ended up pricing 13 percent lower at HK$17.00.
Should Xiaomi's shares fall 6.9 percent, that stock would be underwater.
Such a drop isn't inconceivable.
According to Bloomberg's Sofia Horta e Costa and William Canny, some institutional investors saw bids in the gray market as low as HK$15.20.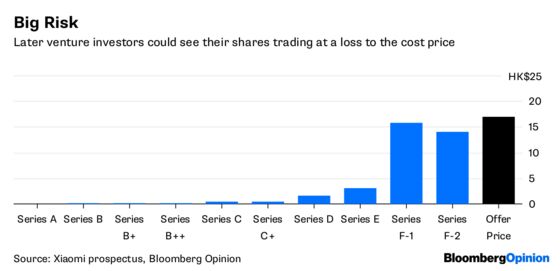 While bids don't equal completed transactions, it's an indication of the bearish sentiment ahead of one of the world's largest and most-anticipated IPOs in recent years.
If Xiaomi's debut is even worse, and the stock drops by 17.2 percent, then another batch of those shares — the ones originally purchased as Series F-2 preferred securities — will also be underwater.
Xiaomi's early backers will be forced to ride out the storm because they're locked up for six months. That in itself could spell trouble because, as I wrote last week, most stocks decline from the end of their first day of trading through their first year. The period from six months to one year is particularly painful.
Should Xiaomi's shares struggle right out of the gate, there could be some relief ahead. A planned China depositary receipt issuance has been delayed, but will likely be forthcoming in the next 12 months. That could give Xiaomi's Hong Kong shares the renewed vigor they may need.