The U.K.'s Richest Man Is No Longer the Duke of Westminster
(Bloomberg) -- The wealthiest Britons are increasingly more blue collar than blue blooded.
Self-made entrepreneur Jim Ratcliffe became the richest of them all this year thanks to a $14 billion fortune that he's been amassing since the 1990s. That's $1 billion more than Hugh Grosvenor, the seventh Duke of Westminster, whose family has long topped the list thanks to land they've owned since 1677.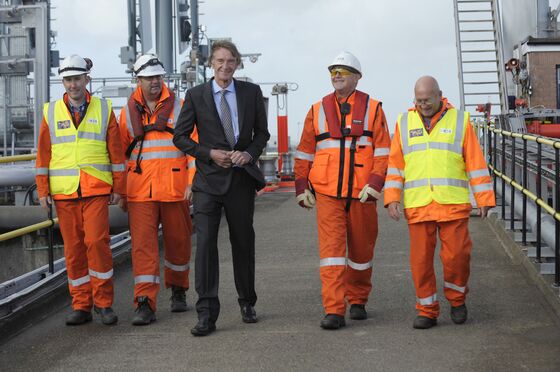 Record results at closely held Ineos have fueled Ratcliffe's rise. He built the chemicals company into a global giant, with 181 sites in 24 countries and sales of about $60 billion. Meanwhile, vacuum pioneer and inventor James Dyson has leapfrogged to No. 3 over another landed aristocrat, Charles Cadogan, known as the Earl of Chelsea, whose family has owned property in London since 1717.
Next are the Reuben brothers, who have interests in property and hotels and recently sold a 25 percent stake in data center provider Global Switch Holdings Plc for about 2.1 billion pounds ($2.8 billion). They're followed by Laurence Graff, who has built a jewelry empire since the 1960s.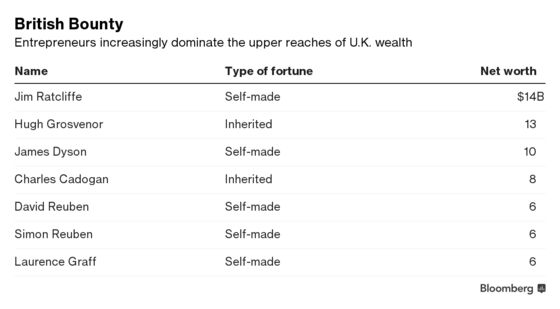 The rise of Ratcliffe, Dyson and the Reubens signifies a reordering at the top of the British wealth landscape, as those with inherited riches have given way in recent decades to those who made their own fortunes. That's a seismic shift for a country dominated for centuries by a landed nobility.
Dyson, 71, and Ratcliffe, 65, have broken from the British establishment in other ways. Both supported Brexit, and their personal fortunes have soared since the U.K. voted to leave the European Union in June 2016. Ratcliffe's net worth climbed 66 percent while Dyson's swelled 82 percent.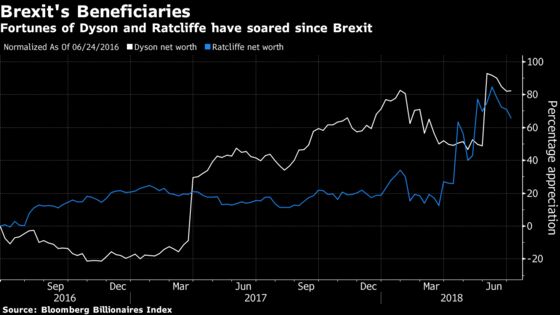 Cadogan, 81, and Grosvenor, 27, have lagged, with their wealth growing 17 percent and 6.2 percent, respectively. They're still doing far better than the British royal family. Queen Elizabeth II's personal fortune stands at a relatively modest $420 million, which doesn't qualify for the Bloomberg ranking of the world's 500 richest people.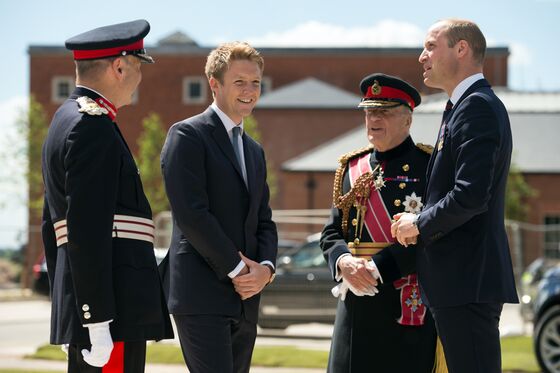 Still, plenty of the gentry will be unfazed by the relative decline in their wealth. "Stewardship of the neighborhood has been our responsibility for over 300 years and our commitment goes far beyond financial returns," said Hugh Seaborn, chief executive officer of Cadogan Estates. And the sixth Duke of Westminster, who died in 2016 at age 64, was a vocal critic of privilege and the difficulties of inheriting such fortunes.
"With Hugh I have always said the fellow was born with a silver spoon in his mouth," Gerald Grosvenor said of his son and heir in 2001. "Our job is to take it out."