As Tariffs Kick In, Bond Traders Only See Fuel for the Rally
(Bloomberg) -- Treasury yields are slipping further away from the pivotal 3 percent level, and an escalating trade war between the U.S. and China has traders bracing for the world's biggest bond market to keep rallying.
A four-week advance in 10-year notes, the longest of 2018, has driven yields down to 2.82 percent, from an almost seven-year high of 3.13 percent in mid-May. Amid a tit-for-tat tariff standoff, investors may still look to government debt as a haven in the days ahead as they assess the economic ripple effects of the levies and hedge against the risk that the protectionist measures will roil markets.
For Columbia Threadneedle Investments and Morgan Stanley, this week could bring a test of 2.75 percent for 10-year yields -- the low for the past three months, set in late May. Barring a spike higher in U.S. consumer prices in data to be released Thursday, Treasuries are poised to draw buyers, according to Columbia Threadneedle money manager Gene Tannuzzo.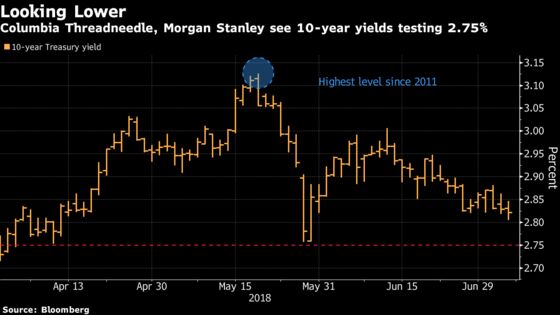 "At some point, cooler heads will prevail, but that doesn't seem to be the direction," said Tannuzzo, who helps oversee $4.3 billion. "If you want a market that can actually provide you some insurance, some ability to go lower in yields, then Treasuries are the best risk-reward safe haven there."
Ten-year yields dropped as low as 2.8053 percent last week, even as the U.S. is set to sell $22 billion of the maturity on July 11. The yield curve continued to push flatter: The spread between 2- and 10-year maturities briefly fell below 27 basis points -- the smallest since 2007 -- after U.S. levies took effect Friday and China retaliated.
And there may be more tariffs ahead. President Donald Trump has threatened to apply them to additional Chinese goods, although much of the tension may already be baked into prices. Bond bulls may also face a potential hurdle this week in the release of June's consumer price figures.
Inflation is projected to rise 2.9 percent from a year earlier, the quickest pace since 2012. However, should Thursday's reading show a significant leap above expectations, that could boost yields and possibly even disrupt the flattening trend if it has investors betting the Fed isn't moving aggressively enough, said Morgan Stanley's Matthew Hornbach.
However, that's not his base case. Morgan Stanley sees inflation rising by 0.2 percent on a monthly basis, in line with the consensus, which means expectations for Fed tightening should remain steady, he said. That will leave markets to focus on trade concerns, which should set 10-year yields up for a test of 2.75 percent, Hornbach said.
This week's data will come too soon to capture the impact of tariffs, but inflation readings will become "incrementally more important" as a measure of their economic effect, according to Tannuzzo. Though tariffs may initially produce inflationary pressures, the duties could also start to dent growth in the U.S. and abroad, he said.
"I worry about trade because if you start to see deceleration in the U.S., it starts to put some cracks in the foundation of growth globally," he said.
On the geopolitical front, Trump heads to the NATO Summit in Brussels and then plans to visit the U.K. to meet with Prime Minister Theresa May.
The Fed releases its semi-annual monetary-policy report to Congress on July 13
A handful of Fed officials are on the calendar

July 11: New York Fed's John Williams speaks in New York
July 12: Minneapolis Fed's Neel Kashkari speaks in Minnesota; Philadelphia Fed's Patrick Harker speaks in Idaho
July 13: Atlanta Fed's Raphael Bostic in Virginia

The latest read on CPI is the highlight for U.S. economic indicators

July 9: Consumer credit
July 10: NFIB small-business optimism; Jolts job openings
July 11: MBA mortgage applications; producer price indexes; wholesale inventories
July 12: Consumer price indexes; initial jobless claims; Bloomberg consumer comfort; Treasury's monthly budget statement
July 13: Import/export price indexes; University of Michigan survey