States Got $3 Billion in VW Scandal. Here's How They'll Spend It
(Bloomberg) -- The Volkswagen AG emissions cheating scandal that cost the storied automaker more than 26 billion euros ($30.4 billion) is now helping fuel the rise of electric cars, buses and charging stations across the U.S.
As part of a series of sweeping settlements, Volkswagen has agreed to pay almost $3 billion to fund efforts to cut pollution from diesel engines in every state. It's up to local officials to decide what to do with the money, but there are a few strings attached: It must be used to reduce a central component of smog, nitrogen oxide. And only 15 percent can pay for electric-vehicle charging infrastructure.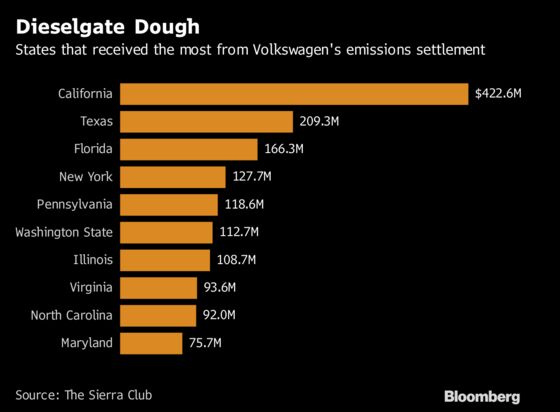 The debate over how to spend it is playing out differently in each state, which received amounts based on how many Volkswagens with emission-test-cheating software were registered within their borders. California tops the list, landing $422.6 million. Texas comes next, with $209.3 million. States have 15 years to spend the money. More than 10 have finalized their plans, according to the Sierra Club, which is tracking the effort.
"This is a landmark moment," Mary Nichols, chair of the California Air Resources Board, said in a statement. "Over the next 10 years this plan will put in place not only tools to clean up VW's excess emissions, but also to help achieve further reductions of smog-forming pollution for decades to come."
Connecticut Governor Dannel Malloy said reducing vehicle emissions is key in the fight against global warming. "While it will be impossible to offset the entirety of pollution that resulted from VW's emissions cheating," he said, "the release of these funds will help to improve air quality and protect public health in Connecticut."
Some states are still trying to decide how to use their newfound cash, including Texas, Florida and New York. Those debates have not been without controversy, with some groups pushing for states to use the funding to promote natural gas or diesel vehicles. The Sierra Club has opposed that idea.
"If you have this money on the table for clean transportation, we think it should be spent on truly clean electrification options -- and not investing the funds in old, dirty technology like diesel or natural gas," Gina Coplon-Newfield, director of the Sierra Club's Clean Transportation for All Campaign, said in an interview.